Successful multi-level marketing (MLM) companies must have products that meet the needs of their target customers – and attract representatives who become brand advocates. And successful direct selling organizations need a compensation structure that incents and rewards the desired sales and recruiting behaviors. They have to map out and execute business, brand, and marketing plans to achieve their growth goals. And, behind it all, successful MLM companies must have a powerful MLM software platform that integrates, automates, and streamlines everything from customer shopping experiences through inventory management tools. 
But, even with all of those elements in place, MLM companies won't succeed if their field sales representatives don't succeed. From the moment a new MLM representative enrolls and begins her onboarding training, the MLM company must empower an individual's success by making the tools she needs easily accessible. The strategy is simple. The MLM software tools available to a representative enable her to build her business. And, as each representative builds her business, the organization expands and grows strategically.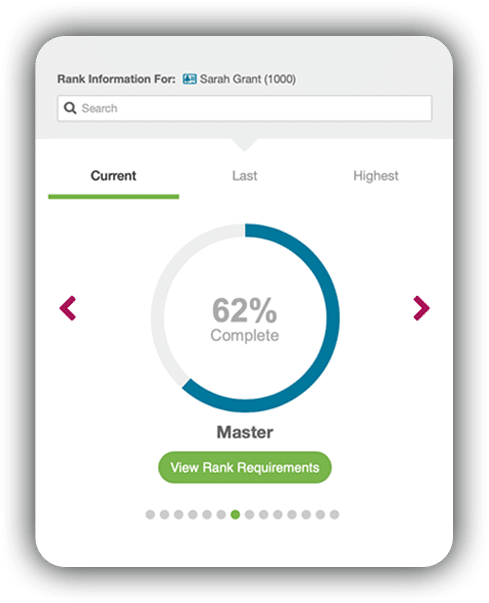 The right time for growth
Unlike traditional retail, which was faltering even before the global pandemic, the direct selling industry is primed for growth. In the midst of the pandemic, direct selling companies set new sales records with a 14 percent annual growth rate and more than $40 billion in retail sales in 2020.
There are many factors propelling the growth, but one of the main ones is how well MLM careers fit with the evolving gig economy and the increasing desire for flexible work schedules. With flexibility and the ability to be your own boss cited as top reasons, 54 percent of the U.S. population is expected to be pursuing independent work – either full or part-time – by 2025.
With today's technology making working anytime, anywhere possible, MLM companies make it easier than ever for people to pursue their entrepreneurial aspirations. Opting for a career as an MLM sales representative gives people a viable, affordable, and nearly turnkey option for starting their own business. Even better, it provides people with an opportunity to represent products and brands they believe in. Today, according to the Direct Selling Association, there are 7.7 million direct selling representatives in the U.S., a 13 percent increase over 2019.
Evolving technology, and specifically MLM software, is fueling direct selling growth. MLM software capabilities enable representatives to connect with customers, build relationships, and sell in both virtual and physical environments. MLM software also brings automation and operational efficiencies to the business, at both the rep and corporate levels, that streamline business tasks and provide comprehensive, strategic data. For the independent MLM representative, accessible, user-friendly MLM software tools in two core categories – sales and business management – are the keys to success.
Strategic MLM tools that facilitate sales
As more people seek MLM careers that allow them to achieve success along with work-life balance, customer and shopping trends are also aligning with the direct selling model. Even as utilization of e-commerce and social selling channels continue to increase, customers want more connection in their shopping experiences. Eight in ten customers say they prefer shopping experiences with more human interaction. Direct selling blends technological ease with personalized relationships between MLM representatives and customers.
Replicated websites
Today, a person can explore an MLM opportunity, enroll to become a representative, set up their sales website, and start selling in a matter of hours. Replicated websites are one of the primary tools provided through a company's MLM software that makes it all possible.
Based on their choice of an MLM software platform, companies can make the process of setting up an e-commerce site simple for a new representative. Not only do replicated websites provide each rep with a unique web address to direct their customers to for browsing and buying online, but they also integrate with the company's back-end software, which delivers payment processing, sales tax calculation, shipping fulfillment, commission payouts, inventory management, and reporting ease for representatives.
Replicated websites provide web programming and design frameworks that are set up and ready to go, with reps simply adding personalized information like a photo, background story, and other details about their business. The turnkey technology also provides advanced e-commerce shopping functionality, intuitive navigation, and mobile-responsive design so that shopping is easy via desktop computer, tablet, or smartphone.
In addition to getting independent representatives up and selling quickly, replicated websites help MLM companies ensure their field sales teams are delivering consistent brand, product, and service experiences to customers. Plus, replicated sites ensure reps are able to keep up with the latest shopping cart and payment processing expectations as technology evolves over time.
People – including MLM representatives and customers – are rarely without their smartphones. Adaptation of the technology has been rapid. In 2011, 35 percent of American adults had a smartphone. In 2021, 85 percent do. And nearly eight in ten people are actively using their phones for at least three to four hours a day.
For MLM companies and representatives, having a mobile responsive platform enables them to run their business from a phone or tablet is a business imperative. When selecting an MLM software platform, direct selling companies should ensure the software is responsive – meaning the display will automatically resize based on the device being used. That way, no matter how representatives choose to engage, they will have a consistent experience.
When reps have their business tools at their fingertips, it's easy for them to stay engaged with updates from the company and real-time alerts for sales, new customers, and new recruits. Plus, with a few swipes, they can look up details about their business, downline team performance, customer profiles, or their status for qualifying for a new rank or sales contest.
CRM capabilities
Direct selling is relationship-based. To build and grow their business, MLM representatives need accessible, easy-to-use customer relationship management (CRM) tools. Providing reps with a CRM tool that's integrated with the company's MLM software seamlessly brings together the information they need to build and expand their customer relationships.
With customer profiles easily accessed through the rep's online dashboard, MLM representatives can view details like customer preferences and past purchases with just a few clicks or taps. They can also see personal information like a customer's birthday or loyalty program status. All of this translates into a personalized experience for the customer by enabling the rep to tailor their outreach, recommendations, and follow-ups based on the user-friendly CRM details.
Ease of use is particularly important when evaluating MLM CRM tools. As a representative looks up and reviews a customer's profile, they should be able to easily take action by clicking on the customer's email address or phone number within the CRM's contact card. In addition, integrated technology can give reps the ability to create customized segments of customers for targeted communications and marketing.
Autoship
Autoship has quickly become a must-have strategic tool to help MLM companies and their representatives drive sales by creating steady, consistent revenue. An autoship tool gives reps a convenient way to set up recurring orders at a designated frequency to ensure they always have the right supply of products on hand. Providing autoship options for customers is a customer-centric way to build and strengthen loyalty by ensuring that customers receive their favorite products on a regular basis.
Choose an autoship tool that's integrated within your MLM software, so it connects to inventory management, automates the shipment, collects the payment, and alerts the representative and the customer. For MLM companies, the value of autoship extends beyond recurring sales income. It also has a positive impact on customer and representative retention rates and adds predictability to sales forecasting.
Strategic MLM tools that streamline business management
Technology-based tools arm MLM representatives with the information they need and simplify business tasks so they're able to focus on expanding their downline teams, building customer relationships, and making sales.
Onboarding and ongoing training
There's nothing more important to long-term MLM success than the onboarding process and ongoing training. Structuring onboarding as a journey-based experience is crucial for delivering training content to representatives step-by-step as they need it, rather than overwhelming them with information that may not be relevant. MLM software should make it possible for companies to map out both onboarding and ongoing training journeys. Then, the customized content modules and videos should be automatically triggered based on defined milestones like sales activity, recruiting activity, and rank qualifications. Reps can easily access timely information and insights on their dashboard within the MLM software's rep tools.
Journey-based onboarding pays off for both representatives and MLM companies. By introducing information strategically, reps stay focused on sales from the beginning. Research shows that when MLM representatives make sales early in their career – within 14 days of joining the organization – they stay with the company for six years, on average. Along with enhancing representative retention, organizations with standardized onboarding programs achieve 62 percent greater productivity.
Automated alerts
Automated alerts are an efficient tool that help MLM representatives build their businesses. Alerts can notify reps when a customer makes a purchase on their e-commerce site, giving the representative a real-time opportunity to follow up with a thank you. Similarly, alerts can also let the representative know the moment someone enrolls to become a representative via the form on their replicated website. Not only does the alert enable the rep to reach out to personally welcome the new member of the team, but it can also automatically trigger the journey-based onboarding to begin.
Along with strategic design of onboarding and training, MLM companies can optimize alerts to motivate and engage representatives. For example, using alerts, the company can let MLM representatives know when they're close to qualifying for a rank or bonus and provide tips that inspire the rep to take action to achieve the milestone.
Reporting
Accessible reporting data is critical for both MLM companies and sales representatives. Integrated sales and inventory reporting tools help them monitor progress, project the activity needed to meet objectives, and make strategic business decisions. Robust reporting capabilities can also help the organization or rep to identify sales trends and take advantage of opportunities for additional sales. Genealogy views and reports offer a helpful way to track the activity within specific downline teams, drilling down as needed to identify opportunities for recognition, coaching, or additional training.
More advanced reporting helps reps and MLM companies bring data together to evaluate customer behaviors, product sales, and representative performance. When the information is integrated and the reporting tool is user-friendly, the data becomes a powerful strategic tool that can be used to craft segmentation and targeted marketing strategies that drive future growth.
ByDesign Technologies provides direct selling companies with MLM software solutions, and a range of software tools designed to empower representatives to achieve their goals and build their businesses. Visit ByDesign.com to learn more, and contact us to schedule a consultation to discuss what ByDesign can do for your business.
Contact Us

Additional Articles about Achieving MLM Success: