Sales Force Productivity

Empower representatives to stay focused on acquiring more customers and increasing product sales by eliminating time wasters.  Simplify and automate non-revenue generating tasks for increased sales force productivity. 
Exclusive Features
Simplified Business Management
Discover insights and opportunities for growth with accessible key metrics, trend data and reporting. Plus, create marketing and communications tailored by downline or customer segments with ease.
Personal Groups
Combine the data-driven groups auto-populated by the system, with the ability for reps to create their own personal groups by manually adding members from their team to any personal group in order to stay connected and increase visibility for targeted groups of downline reps.
All Customers
Quickly connect with all customers or use multiple filtering options to target communications based on location, order date, inventory purchased, and more.
Latest Retail Customers
View new customers and their contact information. Access notes historical communication and place orders for the customer. Send messages to one or many recent customers with one-click. 
Graphical Genealogy Report
Ideal for viewing on a full screen, this graphical view inserts 'cards' for each team member, displayed in a hierarchal/organization manner. Filtering options allow for locating team members within the graphical view based on name, rank, volumes, qualifications, and more.
Organizational Sales 
View graphical details on personal sales, personally sponsored sales, and downline sales with drillable order details. Quickly see the source of product sales, as well as product trends.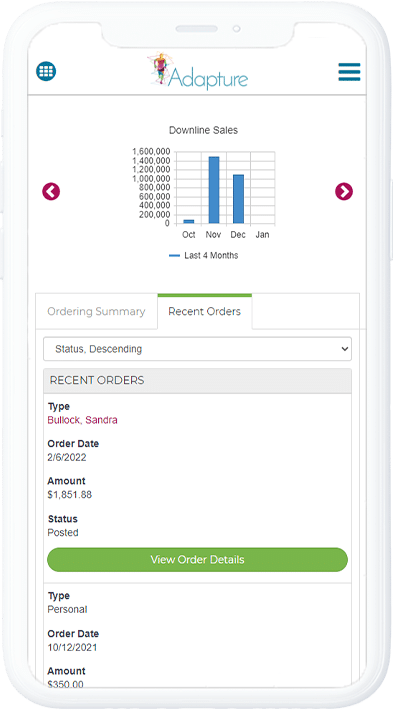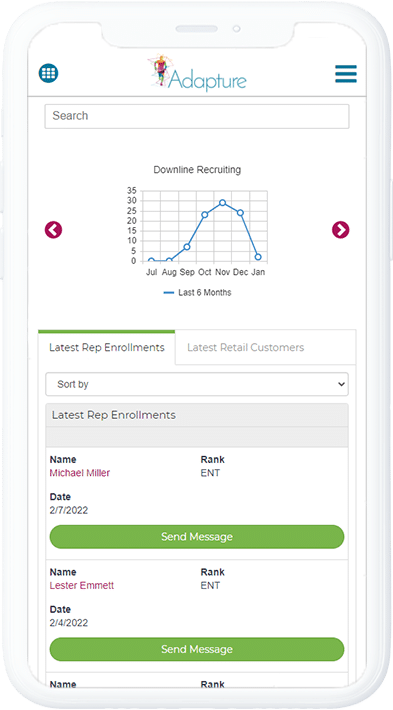 Downline Groups
Create automated, data-driven groups that segment an organization based on rank, level, join date, location, volume threshold, sales/recruiting qualifications, and more. Use these groups to filter various reports in the back office, as well as to quickly connect with groups of team members.
Commission Summary
Quickly gauge business performance with year-over-year graphical earning chart. View details on the business source from product categories such as quick start and car bonus to spot trends and performance opportunities.  
Recruiting Trend Data
View trendline data of personal recruiting performance month over month for the past six months.
New Enrollments 
Quickly access the latest rep enrollments with rank status, general qualifications, join date, and notes for additional information on genealogy placement and more.
Tree View Downline Report
Get a drilled-down nested view into a team using expand/collapse functionality. (Ideal for viewing on a mobile device!)
Case Study
Representative/Consultant Success
The ByDesign solution gives Traci Lynn Jewelz consultants more time to focus on building their business and planning for the future.
Customer Management Tools
Maximize the value of existing customers
Customer Upsell /Cross-Sell
Search for customers who have purchased a specific item to recommend complementary purchases, promote similar new products, announce sales or item promotions, and more.
Search by Zip Code
Boost attendance at the next opportunity event by using the location search feature to find and invite customers who are already fans of the product.
Search by Date Range
Combine the date range search with an item number search to find customers who ordered a consumable product and are likely to need a refill.
Customer Groups
Segment customers based on purchase history, location, and more, with automated data-driven groups that make targeted marketing and communication easier and more successful.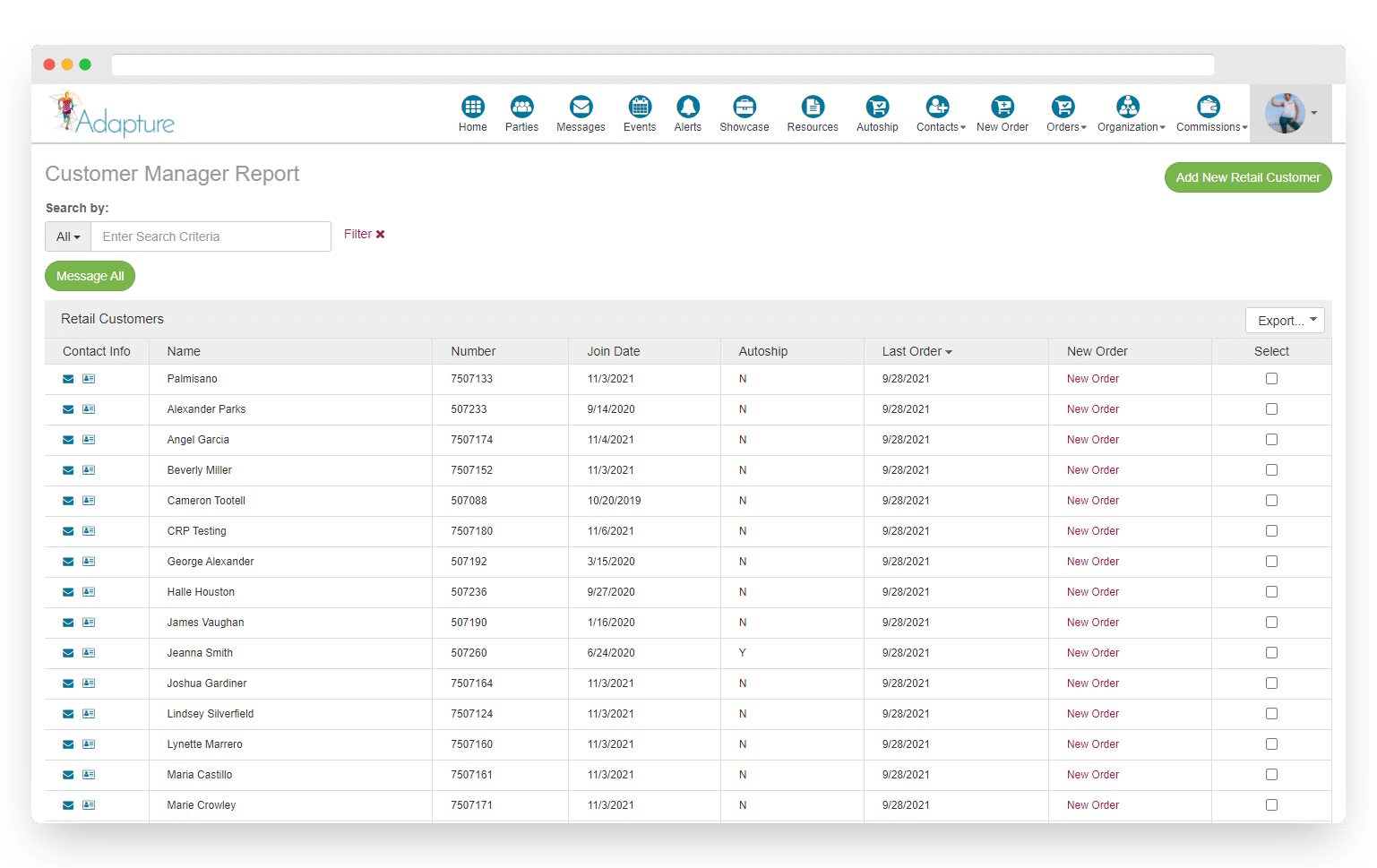 Essential Tools
Complete Party Management from the Representative's Portal
Running successful parties requires a comprehensive software solution that easily handles all the complexities of sharing and selling your products. Freedom software solution includes a full suite of modules designed to accelerate your success.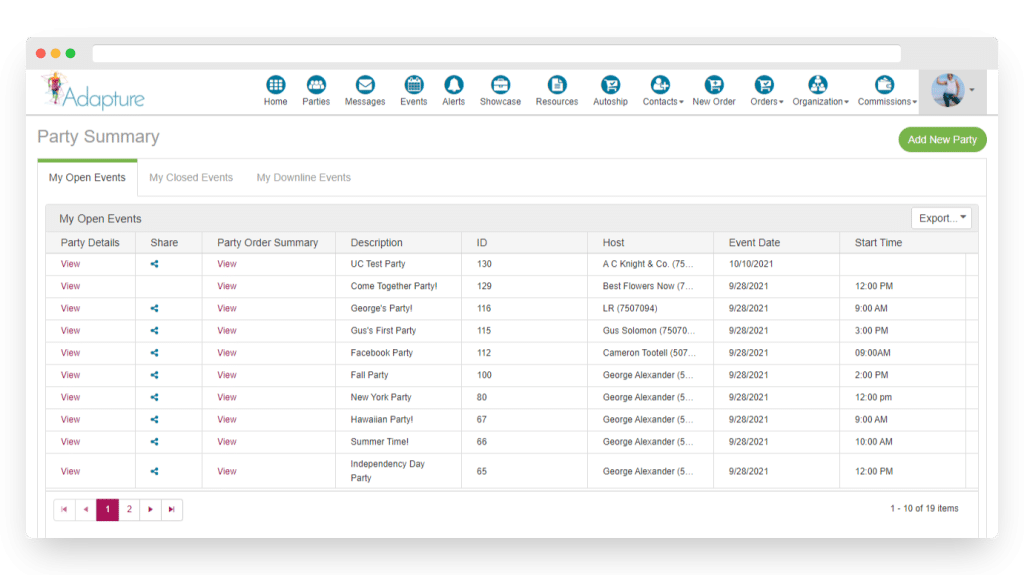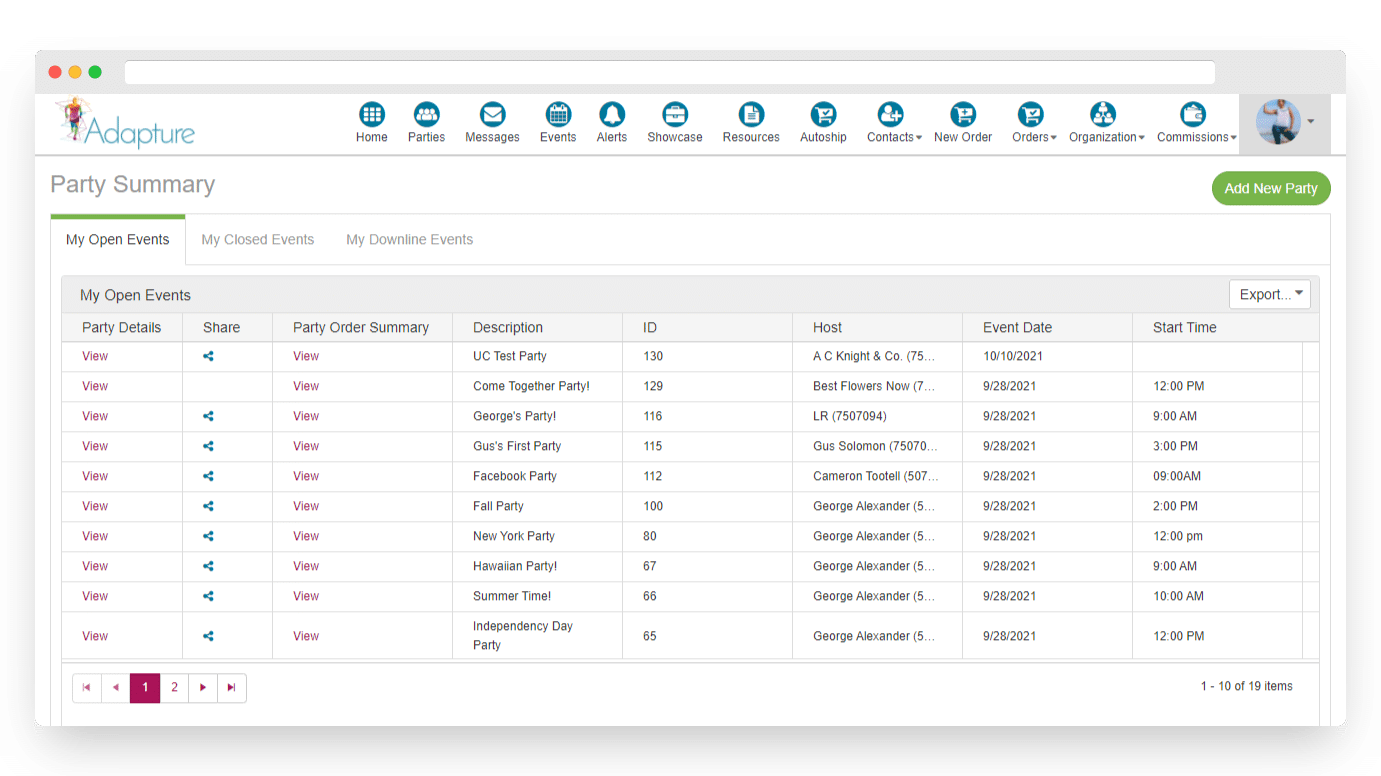 Testimonials
What Our Clients Are Saying
Each week I pull a report that shows me the past and current performance of each rep in my downline.  Being able to zero in on the high achievers and coach them toward specific goals has been a game changer for my team.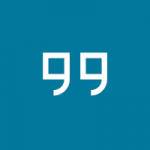 Representative Jennifer M.
New Jersey
When I need an extra push in sales volume, I can easily find existing customers who are most likely to buy a new item based on their order history. With one-click I can connect and share the new product.  My productivity has never been higher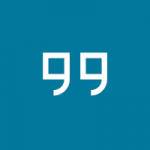 Representative Veronica S.
Arizona
I know exactly what's happening in my business even when I'm on the go – at a glance, I can see the most relevant information and act on it. It's like having my own personal assistant!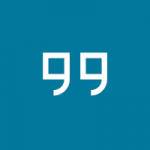 Representative Tina A.
Idaho