MLM Onboarding
Onboarding new multi-level marketing (MLM) representatives plays a critical role in their long-term satisfaction, retention, and success. But all MLM onboarding strategies are not created equal. So, what is journey-based onboarding for MLM companies? It's an effective, strategic approach that provides accessible, step-by-step training and support over time, based on the MLM organization's onboarding timeline and milestones achieved by the representative.
Today, effective onboarding for direct selling organizations is far more than making a new rep feel welcome and sharing a link to a library of training materials. In an industry where high turnover rates are the norm – half of MLM representatives leave within their first year – MLM companies recognize the impact of designing and delivering journey-based onboarding training and support that starts on day one and continues well into the MLM representative's direct selling career. Research shows that organizations with standardized onboarding programs achieve 50 percent higher retention rates and 62 percent greater productivity.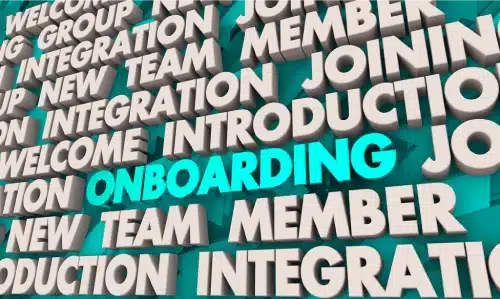 The mlm onboarding timeframe
Structuring onboarding as a journey starts with redefining the timeframe for onboarding training. Don't think of onboarding as a once-and-done event. Effective training that produces successful, long-term MLM representatives happens over a few months. Depending on the company and the products or services, onboarding may extend for six months to a year.
Mapping out a journey that delivers key information and tools at the specific moments they are most relevant is the cornerstone of journey-based onboarding for MLM companies. Breaking up training into modules ensures that you don't overwhelm new recruits with too much information all at once. Rather, creating a thoughtful journey that breaks information up into easy-to-digest modules and delivering it to representatives when they need it is highly effective. Best of all, the right MLM software platform can help by automating the delivery and creating trigger-based messages that ensure representatives receive the right information at the right time.
Capitalize on day 1
Newly recruited MLM representatives come to an organization because they love the company's products or services, and they're excited about the opportunity to share them with their networks. The level of interest and engagement on day one is high. To capitalize, MLM companies must kick off their onboarding journeys right away with a timely – and personalized – welcome message that reinforces the rep's decision and continues to build their excitement.
Some representatives join an MLM company because they're looking for a full-time sales career, while most get involved to earn supplemental, part-time income. Onboarding that recognizes and reflects these different drivers is crucial. Initial MLM onboarding and training should provide essential information so that new representatives have the tools to begin building their business, including a road map for the onboarding journey they're embarking on.
Regardless of their goals for their MLM business, all new representatives have the same question on day one: Where do I start? Answer that question by providing a few essential first steps the new representative needs to take right away, such as a set-up checklist. Pair that with a list of helpful contacts and resources and an overview of what they should expect next in terms of training.
The journey begins
Everyone learns and retains information differently. Fifty-eight percent of people prefer to learn at their own pace, and 49 percent want to learn at the point of need. That's what makes journey-based onboarding so effective. Not only can MLM companies deliver information in digestible modules that arrive at the right point in time, but they can also provide it in a mix of formats that includes written materials, online content, videos, webinars, one-to-one interactions, and in-person events.
Along with a mix of formats, think about the different types of training content that new MLM representatives need – and when they need it. The order and level of information should be specific to your organization, products, or services, and MLM software platform. As you build the onboarding journey, you'll want to share both big-picture information as well as practical how-to instructions. Make sure to include relevant training content across the following categories:
MLM business model: Many new representatives may be unfamiliar with how multi-level marketing companies work. Provide the basics people need to get started, including how the compensation program works and how to recruit representatives to build a downline team. Then, deliver additional, more detailed information over time. 
Products and services: Invest time into providing training and tools that help representatives understand the differentiators that make your products or services stand out. This not only helps reps achieve sales success, but it also ensures brand consistency.
Customer service: One-to-one, personalized relationships between customers and MLM representatives are vital for success at both the rep and the overall company level. Give your reps a solid foundation in your customer service philosophy and expectations. Leverage your MLM software to create trigger-based reminders to help reps follow up with customers after events, sales transactions, and promotional campaigns.
Compliance: All MLM representatives need to understand the industry's compliance regulations and how they impact day-to-day business. Integrate "Compliance 101" throughout the onboarding journey.
Policies and procedures: This information may not feel exciting, but each representative needs it as she sets up her business and starts selling. Focus on making instructions easy to follow and accessible. Consider creating short how-to videos and FAQ resources.
Technology: Getting reps started on the right foot means getting them up to speed quickly on how to use your company's MLM software technology to set up their replicated website, optimize the back-office capabilities, and start making sales.
Direct sales training: Long-term MLM success depends on building a strong customer network that provides both new and repeat sales. Your onboarding journey should include sales and marketing training, as well as access to mentors who can offer advice and support.
Automate the journey
The key to effective journey-based onboarding is delivering the right training content, best practice insights, and motivational support at the right time for each rep. Today's MLM software provides automation capabilities that make it possible to deliver tailored onboarding journeys for each representative.
For example, when a rep gets her first order, the MLM software platform can automatically send a training module about how to provide great customer service and lay the foundation for a strong, ongoing customer relationship. Or, when a representative recruits a new team member, trigger the delivery of a module about the role of a sponsor and how to balance personal business needs with leadership responsibilities.
Most importantly, leverage MLM software capabilities to deliver trigger-based messages that congratulate and motivate new representatives as they reach business and sales milestones. Early MLM sales success drives long-term engagement and loyalty. Representatives who make a sale within the first 14 days after joining a direct selling company are likely to stay with that company for an average of six years – well beyond the industry average. Creating a strategic and thoughtful onboarding journey is the first step to successful growth for both sales representatives and MLM companies.
Visit ByDesign.com to learn more – and contact us to schedule a mlm software consultation.
Contact Us
Learn how the Freedom mlm software can help take your mlm business to the next level.

Additional Articles on Onboarding MLM Representatives: