Acquiring MLM customers
Customer acquisition is at the heart of every successful business. For multi-level marketing (MLM) companies, the direct selling model presents unique customer acquisition opportunities and challenges. So, how do MLM companies acquire customers? The key is making customer acquisition a strategic priority that is reflected throughout all aspects of the business, from its products and services through its brand and compensation structure.
Customer acquisition is the process of attracting new customers from the untapped universe of potential buyers. While the definition is relatively simple, the execution of effective customer acquisition strategies requires a thoughtful, integrated approach that moves the potential customer through the sales funnel from awareness to consideration and, ultimately, to purchase. Overall, it's estimated that between 5 and 20 percent of your prospects will become customers.
In addition to acquiring customers to fuel growth, MLM companies also have important compliance considerations related to customer acquisition. Historically, some direct selling companies relied on selling products to their independent sales representatives for personal use to drive the bulk of their growth. Today, MLM companies that do not prioritize acquiring customers who are not representatives risk potential action by the Federal Trade Commission (FTC).
Finally, MLM company growth also requires recruiting and retaining new sales representatives. A vibrant and expanding customer acquisition strategy is key to achieving MLM sales representative recruiting and retention objectives.
For all of these reasons, successful MLM customer acquisition strategies don't approach it solely as a numbers game. Instead, they recognize how core elements of the business contribute to help MLM field sales representatives gain new customers.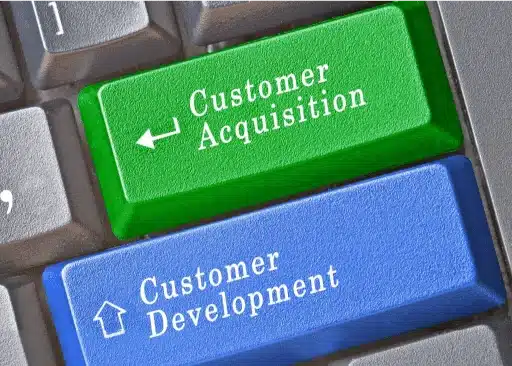 1. Focus on product quality.
Direct selling companies rely on delivering products or services that inspire passion and advocacy among their field sales representatives and differentiation and value for their customers. An MLM company's product pricing must align with the direct selling model. Typically, that means MLM products need to be priced at five times the cost of goods. With that margin in mind, most MLM companies seek to differentiate their product offering by emphasizing high quality that customers perceive as worth the price.
2. Create customer value.
Value is defined by the customer. MLM companies create value through the direct relationships between field sales representatives and customers. Direct selling relationships enable highly personalized marketing and sales and can fuel strong long-term loyalty. To optimize the value and drive customer acquisition, MLM companies need to empower their independent sales representatives with the training and resources they need to present products, close sales, and deliver exceptional service.
From the moment a representative joins an MLM organization, training should begin. Building journey-based onboarding is an effective way for MLM companies to provide immediate training content at relevant points in time. Rather than overwhelming new representatives, journey-based onboarding can be structured within the company's MLM software platform, so the delivery of information and tools is triggered by defined timing, actions, and milestones.
Onboarding and ongoing training should focus on three core areas: product, direct sales, and service.
Product: An MLM Company's products are central to creating customer value. Training should provide MLM representatives with a deep knowledge of the company's products, and the customer needs they solve. Through training, representatives should understand the positioning and be able to demonstrate a product's value.
Direct sales: Customer value is also created through effective needs-based selling. While most MLM representatives have a passion for sharing the company's products and services, they need training and support on how to focus marketing and selling conversations on the customer's needs, not solely on product features. Ongoing direct sales training and mentoring are essential throughout a representative's career.
Service: One of the essential factors in establishing strong customer relationships and conveying value is outstanding customer service. Build service training into all aspects of onboarding and sales processes so that it becomes an automatic part of how representatives deliver the company's value to the market.
3. Equip reps with the tools they need.
Training prepares representatives to sell. But the MLM software and tools a company offers are what enable them to build a successful business. Tools like replicated websites, mobile responsive design, point-of-sale functions that auto-calculate sales totals, promotional discounts, and required sales tax, customer relationship management (CRM), and autoship capabilities provide vital processes and efficiencies. With them, representatives are able to focus on building customer relationships and recruiting representatives to expand their organization.
In addition, strategic tools like automated alerts and reporting capabilities are also extremely valuable. Automated alerts share information, reminders, and motivation at key moments in time. When built into your company's MLM software, these types of alerts can be conveniently shared via the rep's dashboard, letting them know when sales are made, new reps enroll, or new ranks and bonuses are within reach. Robust reporting capabilities enable representatives to monitor their team's activity, measure progress toward growth objectives, and make data-based strategic decisions.
4. Build brand strength.
Every interaction a customer has with an MLM company's representatives and products contributes to their overall brand perception. A strong, consistent brand can be a powerful driver of customer acquisition.
A brand is defined as the perception of a product, service, experience, or organization. Strong MLM brands are much more than a logo or design style. Strategic branding conveys the company's personality. Recognizable brands influence customer purchase decisions. Six in ten consumers say they prefer to purchase from brands they know and like. And they say that their decision about when a brand becomes their preference starts from their first experience.
For MLM organizations, the overall company brand can be a highly valuable asset that helps independent sales representatives build their business and attract new customers. In fact, an established MLM brand that is consistently presented across in-person, Ecommerce, and product and service experiences generates positive word-of-mouth among representatives, influencers, and customers. Consistent brand strategies make a difference. When a brand is consistently represented across experiences, companies see an average 33 percent increase in revenue.
5. Align compensation and incentives.
An MLM company's compensation structure and incentives play a key role in driving customer acquisition. The FTC requires MLM companies to focus on selling to customers who are not also representatives. Structuring the compensation plan to incent and reward representatives for new customer acquisition is one of the best ways to ensure compliance.
An MLM company's compensation plan defines how its representatives will earn income, as commission on direct sales or override bonuses for recruiting as well as downline product sales. Strategic calibration of compensation opportunities motivates independent sales representatives and rewards the selling behaviors aligned with the organization's growth goals and FTC guidelines.
6. Track, measure, enhance.
The only way to gauge customer acquisition is by measuring it. Leverage the reporting capabilities of your MLM software to track new customer sales along with other indicators, such as initial purchase amounts, the products, or services most often purchased by new customers and repeat purchases over time. By monitoring these types of data points, you gain invaluable insights into your business and identify opportunities to enhance customer acquisition strategies and drive increased sales.
Additional Articles on MLM Customer Acquisition:
Visit ByDesign.com to learn more – and contact us to schedule a mlm software consultation.
Contact Us
Learn how the Freedom mlm software can help take your mlm business to the next level.