What is a Party Plan business?
A party plan business model allows individuals who have signed up as a representative with a Direct Selling company to host in-home or online/virtual parties. The purpose of the party is to sell products directly to consumers, in a fun, social setting. Many representatives leverage social selling on Facebook Live, Instagram, or platforms such as Wayroo that provide party plan software.
The attendees of a party serve as a source of future party hosts. As an incentive for hosting a party, the hostess receives a Hostess Reward. The Reward can be a discount on products, free products, or the ability to purchase exclusive Hostess Only products. The representative receives compensation on the retail sales from a party.
Things to Consider When Starting a Home Party Direct Selling Business
When starting a Party Plan business, it's essential to understand what a positive experience looks like for both Representatives and Customers. A best practice is to sign up as a representative with a few companies you admire. Go through their training, host a party, and try their products. This will allow you to evaluate what works and what does not for your new business.
Attending industry training events will provide you with valuable resources and save you from making many common and costly mistakes. The Direct Selling Edge provides excellent educational workshops with no hidden agenda to upsell your company products or services. The faculty is made up of industry-leading professionals that are actively working with direct selling companies to help them achieve a higher level of success and profitability.
When starting a Party Plan business, you will want to have the product(s) you want to launch with, a budget, appropriate funding, a compensation plan, and Party Plan Software in place.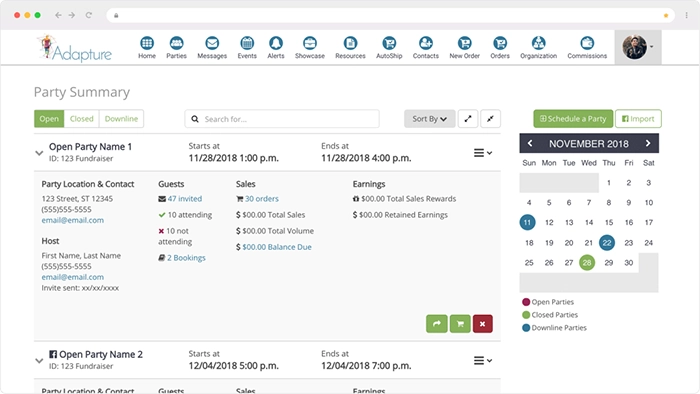 What is Party Plan Software?
Party Plan software, or Social Selling Software is used by direct selling companies whose business model is based on selling products directly to the consumer, in a group setting that is either in person or online in virtual events. Party Plan software automates the business processes that are necessary to run this type of direct selling business.
The best Party Plan software is 100% cloud-based and includes features and functionality that are unique to this direct selling business model, such as:
| | | |
| --- | --- | --- |
| Robust Commissions Engine | Graphical Genealogy | Corporate Back Office |
| e-Commerce Shopping | Representative Portal | Detailed Reporting |
| Facebook & Virtual Parties | Electronic Invite | Hostess Rewards |
| Bookings Engine | Replicated Websites | Branded Mobile App |
What to look for in a Party Plan Software company
The most important criteria for selecting your Party Plan Software provider include:
Experience
Look for a company that has the experience and flexibility to do what you need to do. It is not uncommon for software companies to require a client to change their processes in order to fit the capabilities of their product. A good Party Plan software provider will deliver a complete solution that is configured to meet your unique needs.
Support
How easily can you reach a live support person? Do they have a dedicated team of support specialists? If support is handled by the salesperson, the developer, the owner or executive team – that should be a big red flag. Look for a company that has invested in a department of support experts that can quickly resolve any issues you may have. While it is helpful to have self-help product training videos and online documentation, it is essential that you have access to highly trained support specialists that you can reach at any time by picking up the phone.
Innovation and Continuous Improvement
Look for companies that are always striving to be better, and achieve that goal with regular releases of new features and functionality. A good benchmark is 500+ enhancements each year. Find a company that will also provide free upgrades when they come out with a major release on things like the shopping cart or back office.
Customization
The software that you select should provide the majority of things that you want right out of the box. For those features that are exclusive only to your company, you will want the ability to customize the solution to meet your unique needs. While many companies offer customization of their software, the critical aspect to consider here is if you will continue to get all the updates, bug fixes, and feature enhancements without overriding your customization. Some companies can't apply new releases on top of customized software. Look for a company that will deliver new releases for customized software as part of your standard service.
Testimonials and Client Case Studies
What are current clients saying about their experience? What problems has the software provider solved? Are they helping their clients grow? Can their software scale easily? Can you expand internationally using a single instance of their software?
Product Reviews
Check third party sources such as Capterra for the highest-rated MLM Software companies. Be aware that review sites typically display "sponsored" companies first as their default. You may need to change the "sort by" feature to show you the highest reviewed. Tip Don't be fooled by the name "MLM Software." On review sites, the MLM Software category includes all direct selling business models such as Party Plan, Social Selling, and Multi-Level Marketing.
Partnership
Your back-office software is the backbone of your business. Look for a company that shares your values and genuinely cares about your success as much as you do. Ideally, their team should be an extension of your Corporate staff.
What features should Party Plan Software include?
When selecting Party Plan software, you will want to ensure that it includes the following features:
| | |
| --- | --- |
| Separate Host Portal w/ Stats | Rewards redemption tracker |
| Discounted products | Exclusive products |
| Hostess enrollment | Designed for mobile |
| Electronic Invitations & Social Sharing | Tracking guest RSVP |
| Guest ordering | Virtual parties |
| Direct and group shipping | Customizable variables for product offering |
| Shopping cart | Order history |
| Party-specific reporting | Catalogs |
Visit ByDesign.com to learn more – and contact us to schedule a mlm software consultation.
Contact Us
Learn how the Freedom mlm software can help take your mlm business to the next level.