Multi-level marketing (MLM) companies often put a lot of emphasis on recruiting. After all, MLM success is powered by building a strong downline team and expanding customer reach. But when all the focus is on making it easy for people to enroll and start selling, rep retention can get lost in the mix. Smart MLM leaders know that prioritizing representative retention is the secret behind long-term direct selling success.
The reality is most MLM companies have higher-than-optimal rep turnover rates. On average, half of MLM representatives leave within their first year. Within the first five years, the number jumps to nine in ten representatives. One answer is to ramp up recruiting efforts to replace the reps who are leaving. Another answer is to develop and execute a retention strategy that keeps representatives engaged and active. When you do, the impact on the business can be dramatic. For example, when MLM companies improve representative retention by just 10 percent, companies see a corresponding increase in revenue of 49 percent over ten years.
Clearly, a strategic focus on representative retention pays off for MLM organizations. And, while there's no one-size-fits-all formula for rep retention, there are a few secrets that can help every MLM company improve its retention rates and achieve long-term retention objectives.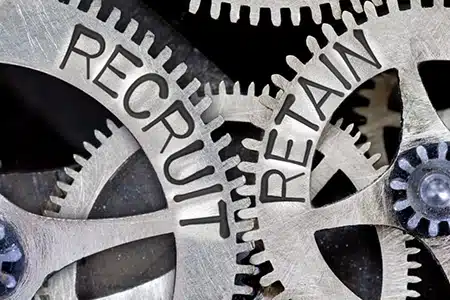 Rep Retention Secret #1: Not everyone will succeed as an MLM representative.
When an organization is over-focused on filling out its genealogy structure and replacing representatives who are leaving, it can become a bit of a revolving door. And, if the recruiting focus goes overboard, it can start to feel a bit desperate in a we'll-take-anyone sort of way. Since that's likely not what your MLM company aims for when seeking new representatives, it's important to recruit with intention.
MLM companies are a good fit for what people are looking for in a career right now. MLM representatives are able to pursue their entrepreneurial dreams without substantial startup costs. They have the flexibility to work as much as they want and when they want. And they're able to choose an organization that offers products and services they feel passionate about. But, even as 77 percent of Americans express interest in flexible and entrepreneurial careers, MLM organizations should still take a targeted approach to recruiting.
For most MLM companies, targeted recruiting means creating profiles of what successful field representatives look like. By defining the demographic and psychographic attributes that representatives need to thrive within the direct selling industry and your organization, recruiting people who will be a good fit becomes easier.
Keep in mind that you should have a few different target rep profiles to match the different objectives people are looking to achieve when joining an MLM company. The primary reason someone pursues a new job – both in and out of the direct selling industry – is because they're seeking a better career opportunity. The second most popular reason is to find a job that enables them to better balance their work and life. MLM organizations need to recognize these motivations and create paths to success that align. Today, out of the 7.7 million direct selling representatives in the U.S., most – 6.8 million – work on their MLM business on a part-time basis, with the goal to supplement their income or work fewer hours.
Rep Retention Secret #2: Long-term success starts with a solid foundation.
Targeted recruiting helps to bring people into the organization who are predisposed to succeed. But don't stop there. The next step is to help them develop the skills they need through product, sales, service, and business training. And it all starts with an effective onboarding experience.
For MLM companies, it's crucial to capitalize on a new representative's enthusiasm by helping her to get started right away. At the same time, you don't want to overwhelm her with too much information and instruction all at once. Instead, approach onboarding as the start of an educational journey and break training content into bite-sized modules that can be delivered as the representative needs them.
Leverage your MLM software to map out and automate journey-based onboarding that allows you to provide content in a variety of formats, including written, video, and events (both virtual and in-person) – and tailor the delivery to fit each rep's journey. For example, through your MLM software, you can build in automated triggers that deliver training content based on defined time periods, actions, or milestones achieved by the representative.
Once reps are engaged and active, transition the journey from onboarding to ongoing training. This gives you a seamless way to continue delivering content that helps representatives enhance their sales and recruiting skills and expand product and business-building knowledge. Focused, strategic, and tailored training is well worth the effort. Organizations that offer standardized onboarding programs achieve 50 percent higher retention rates compared to companies without standardized programs.
Rep Retention Secret #3: Operational tasks take the focus off relationship-building and selling.
Very few MLM representatives are energized by managing operational business details like populating spreadsheets or calculating how much sales tax to charge. Offering integrated technology and tools that streamline tasks and automate processes is a key component of improving MLM rep retention.
Your company's MLM software should provide tools, infrastructure, and automation that simplify running and building the business. As a rep embarks on her MLM career, having easy access – including via phone or tablet – to a customized dashboard that serves as a one-stop resource for communications, training, and business tools is critical. The dashboard should also serve as the rep's hub for tracking their business and team as they grow, and measuring their progress toward sales, compensation, and rank achievement goals.
Integrated MLM software should also provide a range of tools and resources that streamline sales and marketing with replicated websites, Ecommerce capabilities, customer relationship management (CRM), customer-friendly shopping cart and checkout experiences, inventory management, autoship processes, and detailed reporting. By simplifying and automating administrative tasks and operational processes, MLM companies ensure that representatives stay focused on the activities that prompted them to join the organization – interacting with customers, building relationships, advocating for the company's products and services, and creating a successful business.
Rep Retention Secret #4: Every rep needs motivation and recognition.
With journey-based onboarding training and technology and tools in place, the next retention drivers to focus on are motivation, recognition, and incentives. An MLM company's compensation structure is what empowers its independent sales representatives and fuels the organization's growth.
MLM compensation plans can be structured based on a range of genealogy models, such as breakaway, unilevel, binary, hybrid, and matrix. An MLM compensation plan should incentivize and reward field representatives for desired sales and recruiting activities. Along with achieving a balance that pays enough to drive behaviors, the compensation structure must be easy for representatives to understand.
Compensation is just one piece of how to motivate and recognize field sales representatives. For rep retention and long-term engagement, it's also essential to define a series of rank levels that representatives can achieve over time. Ranks can come with differentiated titles, status within the company, and bonus compensation.
Short-term sales or recruiting contests are another good way to keep representatives engaged and active. Contests provide a little fun and friendly competition while rewarding specific activities, such as sales of a new product or new customer relationships. And, when it comes to recognition that drives retention, don't forget about informal recognition, such as shout-outs on team calls or personal congratulatory notes, to let representatives know their successes – big and small – are noticed and appreciated.
Rep Retention Secret #5: People want to work for organizations where they feel valued.
Company culture is the intangible element in the retention equation. Strong organizational cultures reinforce a representative's decision to join and inspire ongoing engagement. On the flip side, weaker cultures can demotivate and disengage representatives. Organizational culture develops whether you drive it or not, so taking a strategic, intentional approach to creating a culture that sparks feelings of belonging and loyalty is a wise retention strategy.
Transparency and communication are vital. Basically, letting reps know the organization's goals, the strategies deployed to achieve them, and the potential challenges along the way. When representatives understand the direction and the part they can play in reaching larger goals, they feel included and valued. When MLM representatives feel connected to the organization's purpose, they are 27 percent more likely to stay.
Establishing a sense of camaraderie and teamwork is also core to building a culture that people want to be a part of. This happens through both formal and informal efforts. For example, create regular communication opportunities for the company to share information and for leaders and teams to share tips, success stories, and challenges. Use a variety of communication channels, including email and dashboard messages, virtual meetings, and in-person events. Along with these types of communications, create opportunities for individuals to connect and get to know each other through social or team-building events and mentoring relationships. It all adds up. When representatives feel committed and engaged with their work, they are 87 percent less likely to leave.
Improving rep retention rates takes consistent and strategic focus. With your retention goals in mind, ByDesign Technologies can help you optimize recruiting, onboarding, software tools, compensation, recognition, and communications. To learn more, visit ByDesign.com or contact us to schedule a mlm software consultation. 
Contact Us
Learn how the Freedom mlm software can help take your mlm business to the next level.

Additional Articles on MLM Representative Retention: