Multi-level marketing (MLM) companies put a lot of emphasis on expanding the organization by recruiting new field representatives. But, once they're on board, keeping MLM representatives engaged and active is just as important – if not more – for the company's success and long-term growth. How can MLM companies increase representative retention? It starts with having a strategic plan.
The first step in building and executing an MLM representative retention strategy is defining what retention means – and then measuring it. Typically, retention is defined as the number of representatives who are actively selling within an MLM organization. For example, MLM retention can be defined as the representatives producing personal sales volume over a period of time, such as three or six months. Monitoring retention rates as new representatives come on board is essential for adapting and improving engagement and activity for the long term.
Overall, the retention reality for MLM companies is challenging. Half of MLM representatives drop out before the end of their first year. Nine in ten leave within the first five years. Clearly, improving representative retention could have a big impact on an MLM company's bottom line. In fact, it's estimated that increasing rep retention rates by just 10 percent will grow the company's revenue by 49 percent over ten years.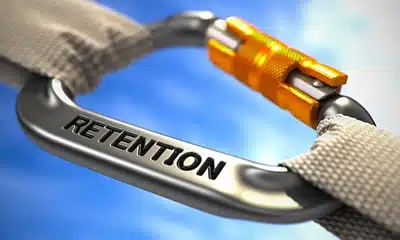 Recruit with intention.
An MLM career offers a unique opportunity that's flexible and entrepreneurial. That means it attracts people with different motivations. Some are looking for a part-time gig to supplement their income. Some are looking for an income boost around the holidays. And some are looking to build a full-time business.
According to the Direct Selling Association, there are 7.7 million MLM representatives in the U.S. as of 2020 – a healthy 13 percent increase over 2019. Most MLM representatives – 6.8 million – focus on their business on a part-time basis, leaving just under a million pursuing direct selling as a full-time career. By recognizing representatives' different objectives and analyzing who is succeeding, MLM companies can create a profile of ideal representatives for the organization and then target recruiting efforts accordingly.
Make training accessible.
Retention efforts start the moment a new representative enrolls. Effective – not overwhelming – onboarding training is critical. Taking a journey-based approach to onboarding delivers accessible, step-by-step training, information, and tools to new MLM representatives when they need it.
The best MLM software platforms make it easy for direct selling companies to map out training content in digestible modules with a mix of formats like written materials, videos, webinars, and in-person events. Then, the content delivery is automated via the company's MLM software, triggering content modules based on defined timing, actions, or milestones so that the journey is customized for each representative.
Research backs up the value of creating a consistent onboarding training journey for MLM representatives. Organizations with standardized onboarding programs achieve 50 percent higher retention rates. But training doesn't stop with onboarding. Continue the training journey by providing ongoing, relevant, and helpful content to the rep's dashboard within the company's MLM software platform to build direct selling skills, refine product knowledge, and enhance customer service.
Simplify business operations.
Most representatives join an MLM company because they are fans of the products or services and want to share them with others. They're excited about the opportunity to build a business that fits their needs and flexes to allow them to market and sell on their schedule. What they're not looking for is a lot of operational and administrative tasks. In fact, if representatives have to spend too much time setting up and running the business, it can have a negative impact on retention.
A company's choice of MLM software is crucial for providing infrastructure and tools that streamline sales and marketing, Ecommerce, customer relationship management (CRM), checkout experiences, inventory management, autoship processes, and reporting. By making it easy to get the business up and running – including access to a user-friendly dashboard that reps can use via a phone or tablet, MLM companies keep their field teams engaged and focused on achieving their sales and recruiting goals.
Engage, incent, reward. (Repeat.)
Compensation and incentives are other essential drivers of MLM representative retention. When designing a commission and incentive structure, MLM companies must factor in elements that keep representatives feeling engaged, incentivized, and rewarded as their career progresses.
MLM compensation plans can be designed using several different models based on the company's genealogy structure. Ideally, the chosen compensation model, such as unilevel, binary, hybrid, or matrix, rewards the desired sales and recruiting behaviors in a way that's easy for the independent representatives to understand.
Recognition is at the core of compensation and incentives. Just as important as paying a competitive commission on each sale made by the representative and her downline, it's important to build in incentives that keep representatives motivated. Developing a series of ranks that representatives can pursue over time is a great way to incent and reward behaviors while also conveying status within the organization.
Create a culture that inspires career longevity.
When it comes to engaging and rewarding independent MLM representatives, don't overlook the powerful role the company culture plays. Establishing authentic, collaborative relationships among the company's leadership, corporate personnel, and field sales teams is key. People want to work within organizations where they feel connected and valued. Plus, enjoying what they do and who they work with is good, too!
Communication is at the core of creating and sustaining a strong company culture. Mix formal communications and automated alerts with informal shout-outs and one-to-one outreach to recognize successes and milestones. Beyond monetary rewards, picking up the phone to personally congratulate a field sales representative on their first sale or sending a note of encouragement as a rep nears a rank qualification can go a long way toward creating loyalty and retention.
The foundation of MLM company culture's impact on retention is setting clear expectations for representatives and then delivering on those expectations. From continuing to innovate to enhance product and service offerings through providing access to evolving MLM software technology and tools, the major rollouts and the little everyday interactions have a big influence on a representative's decision to stay engaged and active within the organization.
Visit ByDesign.com to learn more – and contact us to schedule an mlm software consultation.
Contact Us
Learn how the Freedom mlm software can help take your mlm business to the next level.

Additional Articles on MLM Representative Retention: