Influencer Marketing
Strategic use of social media can give your direct selling brand – and sales – a boost. One way to harness the power of social media is through influencer marketing. What is influencer marketing? Influencer marketing enables direct-to-consumer companies to reach the dedicated followers of individuals who have built a strong social media presence and community. These individuals are called influencers because their followers view them as experts in their niche, which can range from fashion or parenting to nutrition or fitness. When they promote or endorse a product or service, their built-in audience of followers take note – and action.
Influencer marketing can be found across all social media platforms, with Instagram and YouTube the most widely used, followed by Facebook, TikTok, Twitter, and Pinterest. The social media platforms recognize the growing impact of influencer marketing and continue to enhance posting capabilities that enable influencers to effectively showcase products and share their endorsements.
As of 2022, 73 percent of companies with 100 or more employees plan to use influencer marketing to increase awareness and drive sales. That's up from 55 percent in 2019. And influencers definitely have influence over consumers. Eight in ten people report making a purchase after seeing a recommendation from an influencer.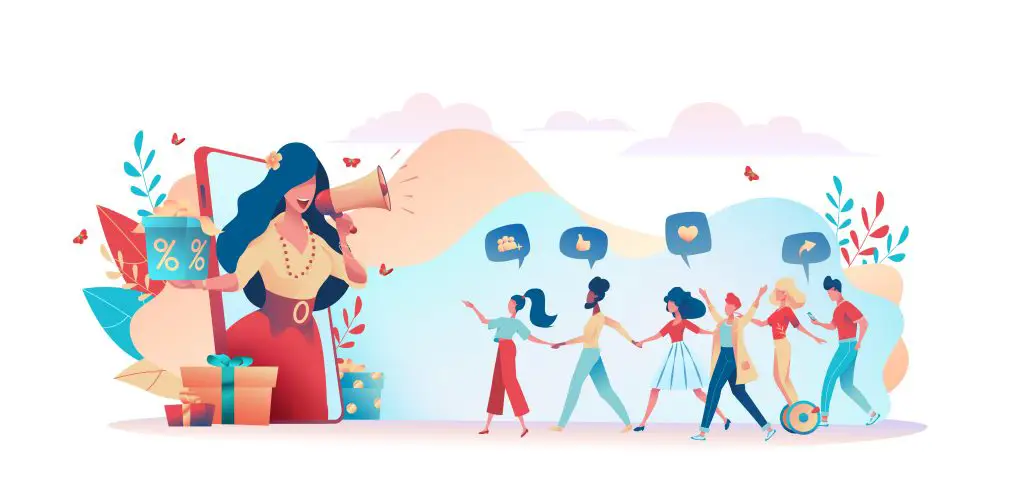 4 types of influencers
Even with influencer marketing now considered a mainstream strategy, many people still have a major misperception about who influencers are. While celebrities are visible influencers who command top dollar for promoting products and services to their followers, some of the most effective influencer marketing strategies rely on everyday people who have built up a substantial number of social media followers based on shared interests. There are four primary categories of influencers.
1. Mega Influencers
The first category – Mega Influencers – is what many people think of when they hear the term influencer marketing. Mega Influencers are recognizable celebrities who have millions of followers and typically charge premium rates to promote and endorse a product via social media. Because of the sheer number of followers, the audience mega influencers reach is quite broad, which makes them a good fit for brands looking to increase awareness.
2. Macro Influencers
Macro Influencers have 100,000 or more followers and are often prominent bloggers or podcasters in a particular niche. Their followers are cultivated based on the content the Macro Influencer produces, which earns recognition within specific social community niches. Still, like Mega Influencers, the make-up of the followers is broad, making Macro Influencers a good option for building awareness and increasing a brand's reach. Based on the number of followers, Macro Influencers also charge premium rates when they recommend products or services. The Macro category is sometimes broken into two segments at the 500,000-follower mark, with influencers with 100 to 500k followers known as Mid Influencers.
3. Micro Influencers
Micro Influencers have between 1,000 and 100,000 followers. These influencers have built a solid social community and have established credibility within their defined niche. Micro Influencers frequently interact with their followers, further boosting their credibility and influence. They can be a good fit for direct selling brands because their followers are highly engaged and more likely to take action. This makes commission-based compensation appealing to Micro Influencers.
4. Nano Influencers
Nano Influencers have small but mighty followings of under 1,000. Nano Influencers have highly engaged and personalized relationships with their followers, making them an ideal fit for direct selling companies. Their posts are focused, and their audience is receptive to their recommendations and endorsements.
How influencer marketing works
When it comes to influencer marketing, bigger isn't always better. In fact, outside of high-cost Mega or Macro Influencers who frequently work through agents to broker their deals, influencer marketing can be a practical and effective marketing initiative for direct selling companies. By engaging Micro and Nano Influencers with their built-in and dedicated followers, direct selling companies can organically increase awareness in their niche, expand their reach among target consumers, and drive increased sales activity.
Influencer marketing – especially with Micro and Nano Influencers – is based on the relationships the influencer is able to create with their followers. This pairs well with the relationship-based selling approach of direct selling. When a direct selling company attracts influencers who are a good fit and authentic advocates for the company's products, they gain a credible way to reach a captive, targeted audience of potential customers. The strategy is effective, with 51 percent of businesses reporting that their influencer marketing efforts generate higher-value customers.
For influencers, the value is in the flexibility to turn their social media following into an earning opportunity by sharing recommendations for select products and services. Direct-to-consumer companies that make it easy for influencers to enroll, post, and track their sales activities through direct selling software tools have a distinct advantage. For example, simplified online influencer enrollment and easy-to-share customized URL links can help a new influencer get set up and selling within a matter of minutes.
Behind the scenes, direct selling software solutions that also provide integrated Ecommerce capabilities, automated sales tracking and attribution, and commission calculation and payout options can be a differentiator for companies looking to build and expand their influencer marketing strategies. Look for software platforms that integrate these customer-facing influencer marketing tools with back-end functionality like end-to-end reporting and mobile-friendly dashboard access for influencers. Plus, a good direct selling software solution should also include integrated 1099 reporting to make managing an influencer marketing program easy for both the influencers and the company.
How social media influencers get paid
While Mega and Macro Influencers are likely to take a fee-based pay-per-post approach to their social media endorsements, a commission-based payment structure appeals to Micro and Nano Influencers who have strong, personalized relationships with their followers. Direct selling companies can establish influencer marketing strategies that pay influencers a commission for purchases made by their followers. Other commission-based models can also include a "pay-per-click" commission for click-throughs that come from the influencer's social media posts or "pay-per-lead" commissions paid when someone clicks through from the influencer's post and takes a defined action, such as filling out a contact form.
Commissions are typically a percentage of the retail sale, but direct-to-consumer companies may also provide influencer rewards in the form of exclusive discounts or gifts. In addition, bonus rewards and sales contests are an effective way to keep influencers engaged and active over time.
Learn more at ByDesign.com or contact us to schedule an mlm software demo.
Contact Us
Learn how the Freedom mlm software can help take your mlm business to the next level.

Additional Articles about Social Commerce: