Word-of-mouth and customer referrals have been driving sales ever since people started exchanging goods and services for money. But the arrival of the Internet and social media took the practice to a whole new level. Today, savvy direct-to-consumer companies are harnessing the power of word-of-mouth referrals by implementing successful affiliate marketing program – and they're reaping the rewards of extended distribution, reduced customer acquisition costs, and increased customer loyalty.
An affiliate marketing program provides a structure for a company to reward people who promote the company's products or services when the promotion results in a customer action, such as a sale. When affiliate programs are executed successfully, everybody – the direct-to-consumer company, the affiliate marketer, and the consumer – wins.
The company wins by acquiring new customers at a cost-effective rate. They're able to extend their reach without the expense of building out complex marketing and distribution strategies. The company only pays affiliates when their promotions result in a customer taking a defined action, such as purchasing a product or signing up for a service.
The affiliate wins by translating their passion for a brand and its products into a way to earn money. Today's technology makes it easy. Affiliates share a custom URL link or promotional code with their network and earn rewards, such as a commission, for any sales that result.
The customer wins by being introduced to a new product or service through a personalized recommendation from "someone like them."
With potential win-win-win situations like this, it's no wonder the growth of affiliate marketing programs has accelerated in recent years. Today, 81 percent of brands report offering some type of affiliate marketing program, and as of 2021, nearly one in every three new customers made their purchase through an affiliate link.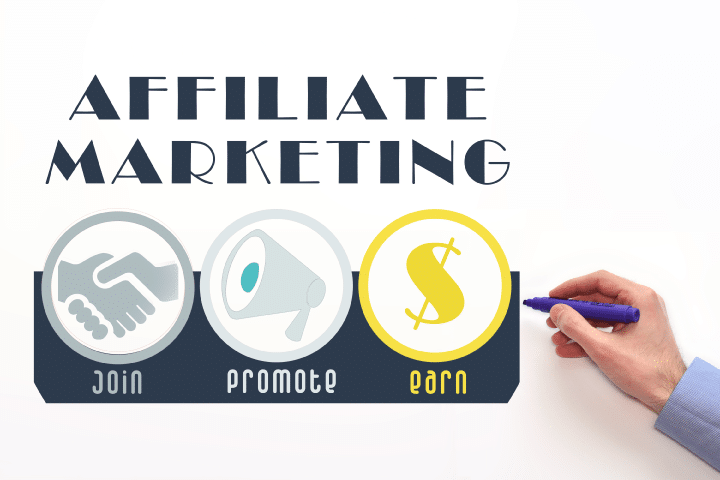 How affiliate marketing works
Affiliate marketing programs are relatively simple for direct-to-consumer companies to set up – and explain. Here's a high-level overview of how a typical program works.
First, a person decides to join a company's affiliate program. Most often, the affiliate has already had exposure to the brand and its products and feels comfortable recommending them.
The company makes enrolling in the program an easy online process. For example, a person could join an affiliate marketing program by filling out a simple online form on the company's website. From there, the company provides a unique affiliate URL link or promo code for the affiliate to use in their promotions. Some affiliate marketing programs also enable affiliates to purchase products at wholesale rates and sell them to customers at retail prices at in-person trade shows, local fairs, or party events.
From there, the affiliate can begin sharing the link or code – along with their personalized endorsement of the product or services with their online network of family, friends, and followers. The most common channels for affiliates to share links are social media (like Facebook, Instagram, and TikTok), blogs, and email.
In most cases, potential customers browse the affiliate's content and click on the link to learn more. The link takes them to the company's website for details and Ecommerce shopping. When the customer decides to make a purchase, the sale is attributed back to the affiliate based on the unique URL or promotional code.
The company rewards the affiliate for the sale by paying a commission or providing exclusive discounts or gifts. And at the end of the year, the company provides a 1099 form to the affiliate that summarizes their earnings for easy tax reporting.
4 core components of successful affiliate marketing programs
When mapping out and implementing your company's strategy, consider the following four components of successful affiliate marketing programs.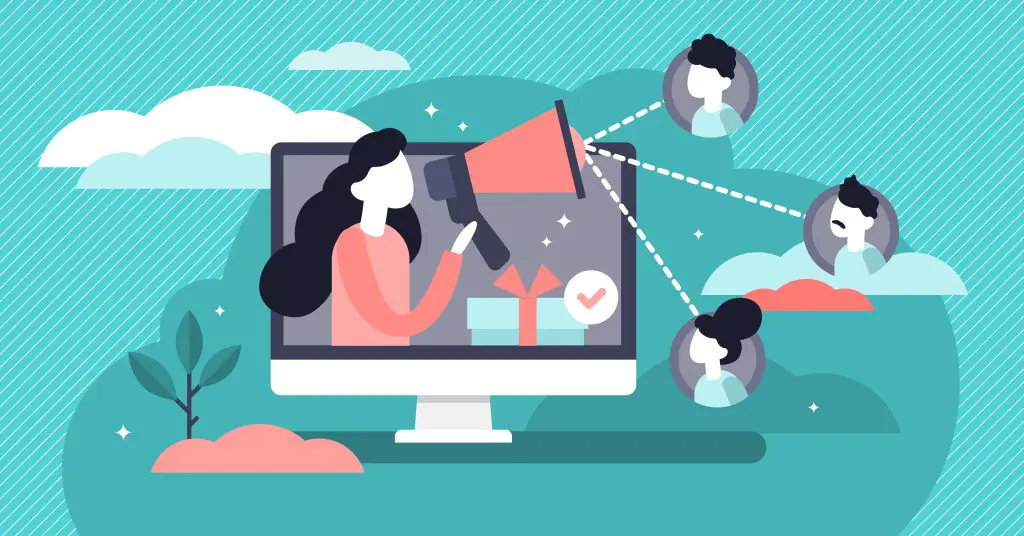 1. Determine the right rewards.
The most visible part of any affiliate marketing program is the rewards it offers to people who enroll as affiliates, promote the products and services, and generate sales. Striking the right balance between appealing to affiliates and maintaining appropriate profit margins is crucial.
As a first step, do competitive research to determine what's working for comparable businesses and any expectations among potential affiliates. It's essential to do the math to make sure you're able to maintain the margins you need to meet business objectives and pay competitive commissions on all sales generated through affiliate marketing. In general, affiliate marketing is more cost-effective than traditional marketing and advertising because you only pay when the marketing results in revenue.
While some programs effectively leverage discounts, coupons, and gifts to incent and reward affiliate representatives, most affiliates expect to be paid a percentage commission for each sale. Commission structures are typically uni-level, straightforward, and easy to explain and understand. In addition to defining a reward for each sale generated through an affiliate's URL link or promotional code, think about offering bonuses or gifts for affiliates as they achieve certain sales and customer milestones.
2. Get to know your target customers and affiliates.
Established direct selling businesses have an advantage when launching an affiliate marketing strategy because they have a deeper understanding of their customer set. The single best place to find successful advocates for your brand is among your current customers. In many cases, they are already serving as unofficial affiliate marketers by sharing their experiences with your products and services within their networks. An appealing affiliate program operationalizes the positive word of mouth and makes your best customers even more passionate and loyal to your company.
Dig into your customer data to create profiles of your best customers and craft your affiliate program structure and communications with these customers in mind. As affiliates enroll in your program, get to know them, track what's driving success, and create detailed profiles outlining the attributes of your most successful affiliates. Over time, broaden your reach by targeting people who align with these attributes.
Perhaps most importantly, nurture your affiliate relationships and provide clear, ongoing guidance around expectations, brand parameters, and ethical behaviors.
3. Provide tools and tracking.
Set your affiliates up for success by providing promotional tools, such as messages, product images, descriptions, and branding. Even though affiliate representatives don't officially work for your company, you can still craft the market-facing messages they share with their connections. Do the ongoing work to provide a library of fresh content, sales promotions, and affiliate best practices so that you keep your affiliates engaged and inspire them to continue promoting your products and services.
Along with competitive commissions and promotional tools, it's also essential to make it easy for affiliates to track their success. Providing mobile-friendly access to sales alerts, commission payouts, and bonus qualifications will help affiliates – and your company – make the most out of your affiliate marketing program.
4. Implement an integrated software solution.
Seek software platforms to help you streamline and automate your affiliate marketing program behind the scenes. Having the right software solution will set your company up to scale your affiliate program by integrating it with the rest of your business. For example, you will need software functionality to support the automatic generation of unique affiliate-specific URLs and codes, as well as the ability to track, attribute, and reward customer activity. At the same time, you'll want these capabilities to integrate with your Ecommerce, drop-shipping, payment platforms, and inventory management functions.
Mobile-first design is essential. Many people will enroll to become an affiliate, create their promotional posts, track their sales, and manage their commission payouts using their smartphones. Make sure the software platform you choose provides mobile-friendly tools and dashboard access for affiliates.
The success of your affiliate program depends on the integration and automation provided by your direct selling software. Put the following capabilities at the top of your must-have list:
Online affiliate enrollment and auto-generated affiliate URL links or promotional codes.
Automated activity tracking and attribution of affiliate-generated sales.
Automated commission calculation and the ability to offer a range of payout options.
Mobile-first design, sales alerts, and dashboard access for affiliate representatives.
End-to-end integration with Ecommerce, including shopping cart ease, payment processing, and drop-shipping.
Comprehensive reporting at the affiliate and company levels.
ByDesign Technologies partners with direct-to-consumer companies to set up and manage successful affiliate marketing programs with end-to-end integration across back-office software platforms. Our software solutions are designed to help companies adapt to evolving market needs and grow their business. To learn more, visit ByDesign.com or contact us to schedule a consultation.
Contact Us

Additional Articles about Affiliate Marketing: