Social Commerce Success | Almost across the board, direct sellers are looking to jumpstart growth. It has become increasingly clear that our industry has changed, and past growth strategies won't produce the same results in the current environment. The good news is we don't have to search too far to find a viable growth engine.
Social commerce offers a channel that aligns well with relationship-based, direct-to-consumer selling while also working side-by-side with traditional direct selling models. And it's growing exponentially. Social commerce sales in the U.S. are projected to increase from $27 billion in 2020 to $79.6 billion by 2025. Compare those numbers to the U.S. direct selling industry's $42.7 billion in retail sales in 2021, and it's easy to see why direct selling companies are seeking to expand their reach by building out their social commerce capabilities.
One of the most exciting elements of social commerce is that it enables direct sellers to meet and engage customers – both new and existing – where they are. People continue to become more comfortable engaging with each other and brands through social media. Today, people spend an average of 2.5 hours per day on social media platforms – and that number is increasing.
Done well, social commerce extends the connections and personalized relationships that are at the heart of direct selling success. For many companies, it's a natural evolution, progressing from sharing content and interacting within social communities to making it simple for social connections to become shoppers, customers, and affiliates.
Here are the three essential building blocks for social commerce growth that we're seeing our clients prioritize to effectively expand their customer base and motivate sellers.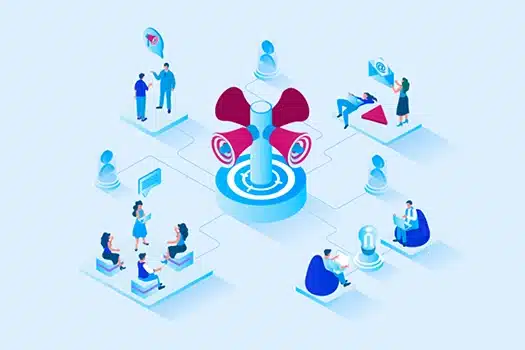 Building Block 1: Loyalty programs
Historically, customer relationships and loyalty in our industry were primarily driven by sales representatives through creating and maintaining their own loyalty programs with their customers. However, that model doesn't maintain brand consistency and isn't widely effective, driving companies to increase customer loyalty through corporate-led programs.
Loyalty programs are also a cornerstone of driving sales and long-term customer relationships in a social commerce environment. The main objectives are to keep customers engaged over time and motivate them to make additional purchases. Additionally, corporate-led loyalty programs drive income growth for affiliates and sales teams as you increase customer sales.
Ultimately, effective loyalty programs provide incentives for customers to progress from buyer to a preferred or VIP customer status. They also facilitate seamless transitions for customers to opt into affiliate selling and sales representative opportunities.
We're seeing most direct selling companies adopt some type of loyalty program depending on their product, margins, and revenue growth objectives; but we're not necessarily seeing any one-size-fits-all programs. The key is that the loyalty program is tailored to fit the company's strategy, cost models, and target customers, but generally, the objectives fall into two categories: driving repeat purchases and increasing recurring autoship orders.
Here are a few examples of programs that are working for our clients:
Repeat purchase loyalty programs
Automatic discounts given to customers who opt into a preferred customer membership program. The automatic discounts or credits on purchases are typically 10 to 20 percent.
Product credits – or "cash back" rewards – that give preferred customers credits they can use toward future purchases.
Automatic discounts in cart for customers who have active autoship orders.
Autoship loyalty programs
Product credits awarded to customers enrolled in autoship that can only be used on non-autoship orders. Designed to motivate purchases beyond regular autoship orders, the product credits can be awarded based on any autoship or tied to consecutive autoship orders.
Free shipping for autoship orders for customers who join the preferred customer membership program.
Buy X, get Y free when customers place orders of defined combinations of items through autoship. These types of rewards effectively drive targeted product purchases.
Building Block 2: Customer referral rewards
Loyal customers are happy customers who are more likely to share their positive experiences and product recommendations with others. Turning these positive feelings into tangible referrals is at the core of the direct selling model, where people engage because they love the product.
Recently, I participated in an industry roundtable discussion focused on party plans. With party plan sales, a host (a customer) is rewarded for bringing additional customers to the event. With fewer traditional parties happening today, it makes sense to explore how to reimagine these types of traditional rewards programs for the social commerce space.
In the past, most companies have emphasized recruiting representatives and building sales teams. Now, many companies are rethinking their strategy to reward customers who bring in other customers. Formalizing referral programs that motivate customers to endorse and refer the company's products or services can take a variety of forms based on a company's product and services, culture, and overall brand.
Here are a few effective examples:
Product credits that award a flat percentage (e.g., 10%) or dollar amount (e.g., $10) of product credit for referred customer orders. Another option is to base the award on a certain threshold of referrals, such as, "Refer five customers and receive a $50 credit."
Discounts that provide an incentive for customers to introduce others during a defined period of time. For example, "Refer two friends and get 25% off for the next two months."
Free autoship based on a defined number of referrals, such as "Refer 3, get yours free." Right now, we're seeing companies leverage the product credits and discount promotions outlined above much more frequently than the free autoship approach.
Building Block 3: Affiliate strategies
Converting customers into affiliates – also known as influencers or brand ambassadors – is a way to take customer referral programs to the next level. Affiliate programs pay a monetary reward or commission for sales that result when a person promotes the company's products or services.
While affiliate programs are nothing new for the direct selling industry, technology and social commerce capabilities make them easy to implement. In fact, social commerce simplifies the ability for customers who love a product to share it with their networks. Savvy direct sellers are building in easy opt-ins throughout the customer's experience that highlight the opportunity to become an affiliate and earn money for sales resulting from social sharing.
Overall, we're seeing direct selling companies create affiliate programs that work alongside more traditional direct selling structures and multi-level compensation plans. For example, paying affiliate compensation for purchases through their affiliate link is effectively a retail sales bonus that the vast majority of direct selling companies have in place. Once someone is earning as an affiliate; it creates a natural progression for someone to move into creating a sales team and earning more based on team performance.
As our industry continues to change, optimizing social commerce will be essential for growth. And while there's no single path to follow, these three building blocks should be considered as companies map out their strategy for future growth. How are you combining the building blocks to drive your social commerce strategy forward?
Author: Daryl Wurzbacher – CEO, ByDesign Technologies a Retail Success Company
Originally Published In: The World of Direct Selling – https://worldofdirectselling.com/social-commerce-success/
Learn more at ByDesign.com or contact us to schedule a mlm software demo.
Contact Us
Learn how the Freedom mlm software can help take your mlm business to the next level.