Most people start businesses to share a solution with others – and make money! But it's not enough to have a product or solution you believe in. Entrepreneurs succeed when they do their homework and build their business around a model that lines up with their overall growth goals, customer targets, and product offering.
For many, a multi-level marketing (MLM) model offers a viable path to market. MLMs appeal as a way to get your products in front of customers more quickly and with less overhead compared to a traditional retail model. By relying on direct selling to consumers, MLMs grow through expanding networks of independent distributors. Plus, a dedicated entrepreneur, equipped with the right technology and tools, can build an MLM company without needing to hire a large team.
But, because the MLM sales model is so different, traditional startup blueprints don't apply. To ensure you're considering the unique elements and nuances of direct selling, use this 10-step checklist to set up your MLM company and put it on the path to success.
1. Pick your product.
Before you do anything else, spend time identifying, researching, and testing potential products and services. The product you choose needs to appeal to buyers, but it also must be something that will inspire distributors to advocate for and sell.
Look for products or services that are unique in the market or have distinct differentiators from similar offerings. Test interest levels with formal focus groups or informal outreach among your target customers as well as potential distributors. In addition to gauging their interest, ask about what they're willing to pay. Aim for products you can price with a 5X margin over your cost of goods. Achieving 5X or higher margins ensure you'll have enough to market the product and cover the payout for your MLM's compensation plan.
For MLMs, there's also a compliance consideration. Ensuring your product or service has strong customer demand helps to ensure that representatives will have sales success. This means your MLM company will be primarily be generating profits from retail sales to consumers, not representative recruitment.
2. Make a plan.
Putting together a written business plan is essential for your MLM company. Along with helping to define your business goals, purpose, and vision, it will also serve as the roadmap for launching and growing your business. And, if you will need outside funding, your plan will give banks or investors information to help them assess the opportunity and forecast when they can expect a return on their capital.
Don't just check the box on this one. Dig in and crunch the numbers. Down the road, as you navigate different challenges and opportunities, you'll be glad you did.
Your MLM business plan should include:
Business objectives: It's good to have challenging goals, but your business plan is where you want to get realistic. Research your market to develop revenue, new customer, and sales targets for your initial launch and first, second, and third years in business.
A market analysis: Define your market niche in terms of both size and opportunity. Then, create profiles of your target customers as well as your key competitors. Analyze the data you compile to identify where your products and services will fit and any potential barriers.
A profit and loss forecast: Based on your market research, financial goals, and product and operating costs, project your anticipated revenues, profits, and loss for each of the first five years. Create a cash flow analysis to show how money flows into and out of your business during a defined period of time.
Sales and marketing plans: Get specific about how you intend to put your products and services in front of buyers. Based on your objectives and costs, determine how many distributors you need at different points in time and what their sales targets will be. Then, map out your marketing strategy, including promotion and website design, and the required budget.
3. Create your compensation plan.
Your company's compensation plan will be the foundation of your direct selling business and its most significant expense. A comp plan defines the terms and conditions for how representatives will earn income, as commission on direct sales or as an override bonus earned on downline product sales.
Getting the balance right is critical. At full payout, you want your compensation plan to be reasonable, attractive to distributors, and, most importantly, profitable. But, if you pay too much, you'll be out of business. If you pay too little, your sales force will leave. Working with a compensation plan expert who can help you vet possible outcomes and remove surprises can save significant expense and stress down the road. At ByDesign, we've worked with several outstanding compensation plan partners over the past 20 years. We would be happy to make the introductions to help you develop and evaluate the optimal compensation plan for your business.
4. Secure funding.
You have options when it comes to funding your startup. The most common is debt financing, which involves an interest-bearing loan from a bank, credit union, person, or specific retirement plan. Another option, widely used by MLM companies, is equity financing. With equity financing, company owners sell ownership in the company in exchange for cash. Equity financing can come from a range of sources, such as family and friends, investors, or an initial public offering (IPO). A primary benefit of equity financing is that there's no obligation for repayment.
Over time, many MLMs use both debt and equity financing, depending on business needs, cash flow, and expansion initiatives. The debt to equity ratio – total liabilities divided by shareholder equity – is a key metric for assessing a company's financial health because it provides an indicator of stability as well as the ability to raise capital for growth.
5. Open a merchant account.
Now, you're ready to begin setting up your MLM's operations. The first step is opening a merchant account, which is a type of bank account that enables your business to accept credit and debit cards in person and online. It acts as a holding place between your customers' bank accounts and your business account as electronic payments are processed.
Here are a few things to consider before you apply for a merchant account:
Who will the signer on the account be? A merchant account functions like a short-term line of credit, so it's important the signer on the account has good personal credit.
Is your marketing website launched? By launching your website, you'll be able to provide potential processors with a full picture of your business and product offerings.
Is the setup fee refundable? Most processors charge an application fee. Some fees are non-refundable, even if the account is declined. Always ask upfront.
Do you have enough lead-time? Expect the approval for a merchant account to be time-consuming due to the unpredictable growth patterns, potential chargebacks, and legal liabilities associated with an MLM business model. Payment processors classify MLMs as high-risk, so setting up your account may take longer than you anticipate. Start early and allow enough time. That way, you won't be forced to delay your launch.
6. Choose your direct selling software.
MLM software will be the engine that helps run all facets of your business. It will bring your compensation model to life and deliver the functionality that automates genealogy management, commissions, API access, replicated websites, e-commerce, party plan solutions, promotions, live and social selling, mobile apps, and tools for sales representatives.
No pressure! Choosing the right solution will be a critical factor in your success. You want software that will support your initial needs as well as future needs as you scale and grow the business. There are a lot of options – and tremendous differences between back-office software providers. Take the time to research different solutions. Look for companies with published case studies and public reviews. Ask for references, and call them to learn first-hand what a company's client experience is like.
7. Retain an MLM attorney.
It's a good idea to retain an experienced MLM attorney in the early stages of building your business. Attorneys specializing in the MLM industry are highly skilled advisors who can provide guidance on everything from product regulatory compliance and product labeling through compensation structure and international expansion. And you'll definitely want to work with an MLM attorney as you start to build out your distributor network.
When selling products through distributors, your company will be responsible for the product and earning claims representatives are making out in the market. The FTC monitors and regulates these claims, and is on the lookout for false or misleading claims about income potential or the health benefits of products. Retaining an MLM attorney gives you access to an expert resource who's up to speed on current case law that defines the regulations governing the direct selling industry.
The reality is that you will need an attorney at some point. Be proactive and build an attorney-client relationship before you need one.
8. Document, document, document.
This one may not be your favorite step, but business documentation – including policies and procedures, shipping policies, return policies, privacy policies, and sales material – has to be done. These are the things that establish the business rules and operating procedures for your field representatives to follow.
For an MLM company, the policy and procedure manual is a cornerstone document. It should cover a comprehensive range of topics – typically 50 or more – depending on your business model, products, principles, and ethics. If getting started feels daunting, consult your MLM attorney (see step 7!). He or she can provide valuable guidance or a template. Whatever you do, don't take another company's documents, and adopt them as your own. While they can be helpful resources, your documentation should be specific for your business.
Here are a few key points to keep in mind as you create documentation:
Sales and marketing materials – whether physical or digital – are considered an extension of product packaging. That means product regulations apply.
Protecting customer data is vital for MLM companies. Federal law requires you to disclose how you collect, share, and protect personal information captured in the course of doing business.
How you use customer data is also regulated and limited by federal law. Make sure your documentation and practices are aligned and that your information technology is set up to provide appropriate levels of protection.
9. Ready? Set? Pre-launch.
You're almost there, but there's still more to learn about your market, customers, and products. It's time to conduct a pre-launch, also known as a soft launch. Essentially, a pre-launch is a limited release of your product or service to a small audience. It can be a vital step to success for MLM businesses because it provides an opportunity to gain insights and make adjustments before launching to the general public.
Your pre-launch period should ideally be at least 90 days ahead of your overall launch. To make it worthwhile, you'll want to create opportunities for your target audience to interact with your products, and start to build awareness, interest, and even pre-orders. The goal of a pre-launch period is to validate your product and positioning while also creating a buzz through sneak previews, promotions, and limited availability. Creating a pre-launch video is an effective way to get the word out and connect with potential customers. Here's a pro tip: Base your video's length on your product's price point. For higher-priced products, aim for 5 to 15 minutes. For lower-priced offerings, keep videos to around one minute or less.
10. Launch!
There's one thing left to do before you launch. Measure your success! Revisit the launch goals you set out in your business plan. These goals will become the KPIs – Key Performance Indicators – to gauge the success of your launch. You'll want each KPI to be measurable. For example, if one of your launch goals is to sign up five leaders with large, existing downlines, break the goal into quantifiable elements. What defines a leader? How many people need to be in a downline for you to consider it "large"? What's the desired timeframe for accomplishing the goal?
Stay on top of your KPIs as you execute your launch. Use the data points as a tool, but supplement them with insights gleaned from checking in with your representatives and talking to customers. This will help you validate your assumptions and adjust quickly when needed.
And don't forget to spend some time anticipating what could go right! What if your product is the next big thing? Could you – and your supply chain – ramp-up to handle accelerated growth? After all, with the solid prep work you've done, you're well on your way to building a successful MLM company.
ByDesign specializes in providing a complete ecosystem of solutions and trusted partners for growing MLM companies. We can help with everything from the technology you need to launch and run your business through resources and tools that empower your representatives to engage customers and make sales. Contact Us to schedule a consultation today.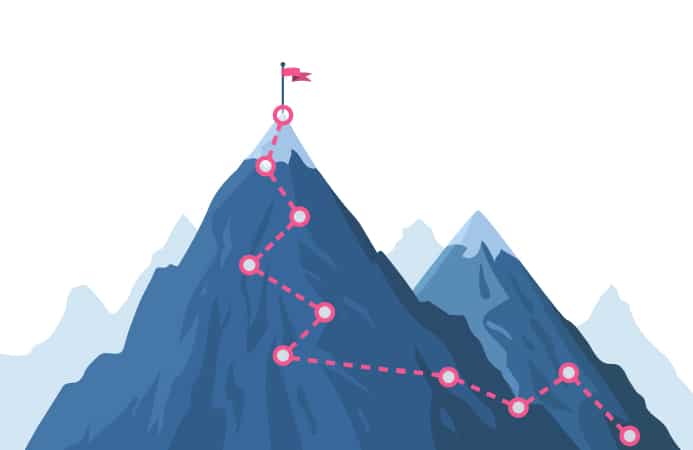 Contact Us