MLM Trends
Change is constant. And for thousands of years, the pace of change was relatively consistent. But technological advancements, such as computers, the Internet, and smartphones, have significantly accelerated the rate of change. Keeping up with a dynamic and rapidly evolving marketplace trends is a business essential for multi-level marketing (MLM) companies looking to drive continued growth in the years ahead.
Along with managing your company for success today, MLM leaders must also monitor trends and apply what they learn to enhance customer understanding, products and services, and overall business processes. Let's explore the top trends impacting the direct selling industry.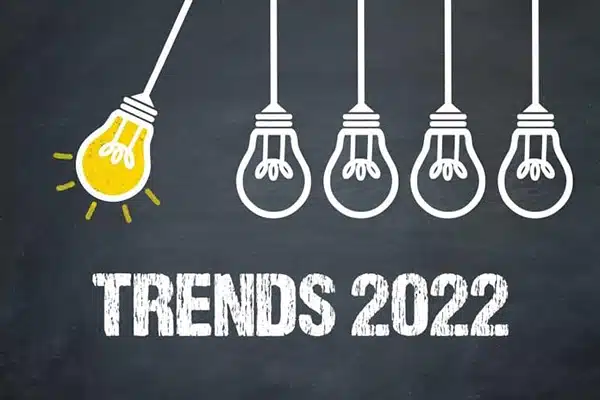 Tap into the appetite for entrepreneurship.
One of the most dramatic mlm trends is the way the global pandemic is affecting how people define work. One in three Americans reports operating their own business alongside traditional full- or part-time employment. For most – 60 percent – the ultimate goal is being self-employed.
Prompted by the pandemic, people have been inspired to pursue employment that allows them to achieve greater work-life balance. In fact, employees are leaving their jobs at record rates, earning the trend the name, "The Great Resignation." Women, in particular, are making changes in how they work. Dubbed the "she-cession," the pandemic disproportionately impacted women in the workforce, with a one-two punch of higher layoffs in female-dominated industries like hospitality and service and impossible choices between childcare and work due to lockdowns and school closures. As a result, one in three women reported they were considering downshifting their careers or leaving the workforce altogether in 2021.
MLM companies are well-positioned to provide the flexibility and work-life balance people are seeking. The direct selling model offers an affordable, low-risk way for people to build their own business, aligning the work to fit their schedule and needs. The MLM company provides product development, MLM software infrastructure, Ecommerce platforms, and training programs, which give independent field sales representatives a viable and turnkey option for starting a business.
The appeal of direct selling is reflected in the industry's growth rates. According to the World Federation of Direct Selling Associations, the industry saw a nearly 6 percent year-over-year increase in 2020 retail sales worldwide (excluding China). And the Direct Selling Association tracked a 13 percent increase in the number of independent sales representatives in the US in 2020, with a record-high 7.7 million reps pursuing direct selling businesses on a full- or part-time basis.
As interest levels in entrepreneurship increase, other key marketplace trends are shaping the future for MLM company success.
Dial up customer centricity.
Today's consumers have high expectations. And they make their purchase decisions accordingly. That means retailers must become more customer-centric by making the customer the focus of all decisions related to delivering products, services, and experiences. While MLM companies have always been about creating strong customer relationships, the shift to increased customer centricity means giving equal consideration when making decisions at the corporate level to the impact on prospective customers and MLM representatives.
The upside to adopting a more customer-centric focus is measurable in the form of improved customer satisfaction, loyalty, and retention. For example, when a customer is loyal to an MLM brand, nearly nine out of ten will recommend the brand to their friends and families. And customer-centric companies are 60 percent more profitable than those without a strategic customer-centric focus.
To drive increased growth rates, MLM companies are designing more strategies at the corporate level to better understand, target, and retain customers. This focus translates into tools and resources that support the organization's field sales representatives, including segmentation strategies, lead generation campaigns, expanded customer relationship management (CRM), and enhanced loyalty programs.
Deliver shopping experiences that stand out.
As MLM companies ramp up their customer centricity, the insights are creating better customer experiences. Not surprisingly, simplicity and ease are at the top of customers' lists, but they also place a high value on personalized service. Eighty-three percent of consumers rate convenience as more important to them now compared to five years ago. And nine in ten customers are more likely to purchase from brands that remember their preferences and provide tailored recommendations and offers.
With its unique combination of technology and a personal touch, the MLM companies and their field sales representatives are well-positioned to deliver the experiences consumers are seeking. A company's MLM software is at the heart of the direct selling experience. An MLM software platform serves as a centralized hub that enables 24/7 Ecommerce ease along with end-to-end operational efficiencies.
A seamless, up-to-date Ecommerce experience is essential for meeting customer expectations. MLM software should provide capabilities that make it easy for MLM representatives to set up replicated shopping websites, so customers have anytime access to browse and buy. Replicated websites ensure brand consistency for the MLM company while providing each rep with a unique URL (web address) to connect with their customers and automatically tie all sales back to them.
The best MLM software also gives MLM companies the ability to offer online shopping and purchasing experiences that consumers have come to expect, including:
Search-ability that allows shoppers to easily browse and find the items they want, using features likecategory-specific landing pages or search filters by attributes like price, size, or style. The best MLM software also facilitates browsing by enabling the addition of tags that highlight best-selling products, alert customers when stock is limited, and showcase sale items or promotional offers.
Shopping carts that are integrated into the overall online experience so customers can easily view the items in their cart, adjust quantities, and check their purchase totals as they browse. MLM software functionality can also enable companies to effectively upsell by suggesting related products based on the shopper's selections and past purchases.
Simplified checkout that walks customers through the purchase process step-by-step and only requires essential payment and shipping information. Added features like automated sales tax calculation and autoship options make transactions seamless for both customers and MLM representatives.
Prioritize mobile.
Shoppers are on the go and rely on their mobile devices to compare, make, and pay for purchases. It's critical for MLM companies to have a mobile commerce – also known as m-commerce – strategy. Seventy-three percent of Ecommerce sales are now completed using smartphones or tablets – a significant jump from 59 percent in 2017. And 45 percent of consumers report using their smartphones for all of their online shopping.
A mobile-first strategy starts by choosing MLM software that enables mobile responsive design, such as easy-to-read fonts and stackable page designs across all web pages, especially Ecommerce, shopping cart, and checkout pages. Mobile-friendly design should also ensure that MLM representatives have convenient, easy-to-use access to the dashboards, reports, and tools they need to manage their business and interact with their customers via their mobile devices. Automated alerts that send a message to a rep's smartphone to let them know when they have a new customer, Ecommerce sale, or new rep enrollment is another best practice for prioritizing mobile technology.
Maximize social connections.
Social media plays a central role in today's shopping experiences. Platforms, such as Facebook, Instagram, and TicToc, are effective ways for MLM representatives to interact with customers, share information about products and promotions, and expand their reach beyond their direct contacts. Many MLM representatives also create live selling events on social media to showcase products and build relationships with their customers. Making the most of social media is a good idea. Today, more than 80 percent of consumers discover products and start their buying journeys on social media, which is up from 58 percent in 2017.
For MLM companies, social media provides effective options to build brand awareness and execute targeted marketing campaigns. Today, MLM companies are leveraging social media to engage customers as influencers. Influencer marketing programs invite customers to post about the MLM company's products and services and influence others to make purchases. In turn, the MLM company offers incentives and rewards for post activity, post engagement, and resulting sales.
Social media is also quickly evolving to include social commerce, which facilitates shopping via a social media platform from the discovery of a product through purchase. With social commerce increasing three times as fast as Ecommerce, smart MLM companies are tracking this trend closely and providing representatives with tools to help turn social connections into sales.
Boost brand-building strategies.
A brand is defined as "a person's perception of a product, service, experience, or organization," which makes it about much more than an MLM company's logo or products. Brand perception is created through each interaction representatives and customers have with the company, its products, and its website.
For MLM companies, a strong, trustworthy, and memorable brand is one of the organization's most valuable assets. Through strategic and consistent brand positioning and management, companies can achieve up to 33 percent higher revenues on average. Optimizing an MLM brand begins with laying out a clear strategy that encompasses messaging and design elements. From there, the strategy must include consistent execution from marketing campaigns and social media messages through Ecommerce websites and representative communications.
Having a brand that boosts awareness and loyalty often comes down to customer and rep experience. For 65 percent of customers, a positive experience with a brand is more powerful than marketing or advertising.
With 25+ years of industry experience and more than 1,000 clients along the way, ByDesign Technologies partners with MLM companies as they grow. ByDesign's MLM software solutions are designed to help direct selling companies keep pace with marketplace trends and meet today's customer expectations. Visit ByDesign.com to learn more or contact us to schedule a mlm software consultation.
Contact Us
Learn how the Freedom mlm software can help take your mlm business to the next level.

Additional Articles on MLM Company Best Practices: