MLM Software Tools
There may not be a magic formula to succeeding in the direct selling world, but technology can make building a thriving multi-level marketing (MLM) business easier. What software tools do MLM representatives need to succeed? Here's a list of a few must-have MLM software tools that are helping today's MLM representatives maximize operational efficiencies, spark sales, and drive growth.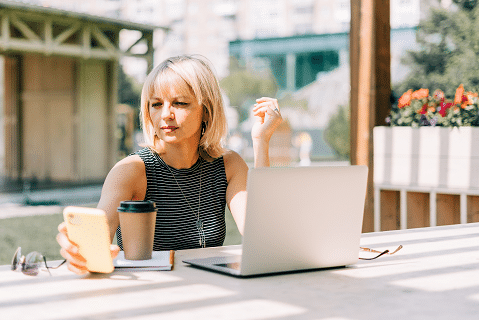 Direct Selling Now
The direct selling industry is growing. In 2020, direct selling companies posted a record-setting $40.1 billion in retail sales, which represented a 14 percent annual growth rate. According to the Direct Selling Association, there are 7.7 million direct selling representatives, 13 percent more than the total in 2019. These representatives include the 0.9 million who pursue their MLM career full-time and the 6.8 million who build their MLM business on a part-time basis. Overall, direct selling representatives averaged more than $5k in retail sales in 2020.
The industry's growth is propelled by an increase in people seeking the flexibility to work from home combined with the enhanced technology that enables them to do it. At the same time, customers are increasingly comfortable with e-commerce and social selling channels even as they seek more human interaction as they shop. These market forces create a favorable foundation for new MLM representatives to build their businesses and existing representatives to expand and grow. To assist representatives in taking full advantage of the opportunities, MLM companies are helping them optimize the MLM software tools available.
Must-Have MLM Software Tools
1. Replicated websites
A strong online presence and robust e-commerce capabilities are essential for MLM success. Choose MLM software that makes it easy for representatives to create a personalized site for their business that's integrated with the company's back end MLM software platform. Replicated websites enable representatives to get their business and e-commerce up and running in short order by providing them with a unique URL or web address they can direct their customers to for browsing and buying online.
MLM representatives should be able to tailor their replicated website to include personal touches like their photo, background story, and other details about their business. At the same time, replicated websites provide brand integrity for MLM companies through intuitive navigation, mobile-responsive design, and consistent product positioning.
Most importantly, replicated websites are an integrated part of the organization's back-end software, which provides representatives with essential functions such as online selling, payment processing, sales tax calculation, shipping fulfillment, inventory management, commission payouts, and reporting. Replicated websites also make it easy for the company's representatives to ensure that their site continues to meet evolving e-commerce expectations through ongoing enhancements to the shopping cart, checkout, and mobile experiences.
2. Mobile app
Technology continues to make it easier to connect, communicate, and work on the go. Fifty-seven percent of Americans report spending five hours or more on their smartphones each day – not including work-related smartphone use. Another 22 percent say they use their smartphones at least three to four hours daily. That's why it's critical for MLM representatives to have a mobile app that helps them run their business from their phone or tablet.
Today, through their MLM software, MLM companies should have the opportunity to create a branded mobile app that their field sales representatives can download from I-Tunes or Google Play and use to access every aspect of their business. The branded mobile app should recreate the online functionality that representatives need in a mobile-friendly experience. This way, reps will have a consistent, unified user experience no matter which device they use to log in. Through the mobile app, representatives can view updates from the company, receive alerts (such as new sales or enrollments), look up details about their downline team, or check their qualifying status for a new rank or promotion.
3. Customer relationship management
Whether online or in-person, direct selling succeeds based on the personal relationships representatives build with their customers. Customer relationship management (CRM) is an essential tool to help reps remember – and easily access – details about individual customers.
Customer profiles should be available from the representative's dashboard and the mobile app, providing information such as purchase history, preferences, and details like birthdates, anniversary, or customer loyalty status. This way, MLM representatives can personalize their outreach, tailor recommendations, and follow up on past purchases – often by simply clicking the customer's email or phone number within the CRM's contact card. CRM tools can also go deeper with customer communication history and provide the ability to create custom contact groups that enable reps to execute segment-specific outreach and marketing.
4. Autoship
MLM representatives – and their customers – love the convenience of autoship. By giving representatives and customers an autoship tool with the ability to choose from a range of delivery frequencies, they're able to create customized recurring orders. Behind the scenes, technology does the rest, managing the shipment, collecting the payment, and alerting the customer.
Leveraging autoship functionality does more than create a steady, consistent revenue flow for the field representative. It also delivers great value to the subscribing customer by turning them into repeat buyers, expanding the MLM rep-to-customer relationship, and building loyalty over time. But the convenience factor is autoship's biggest differentiator. Eighty-three percent of shoppers say convenience is more important now than just five years ago. Having an autoship option saves customers time by ensuring they receive their favorite products regularly. It also helps pave the way for the rep to share tailored "you might also like" recommendations.
5. Journey-based onboarding and coaching
Recruiting and training are pivotal to long-term MLM success. As representatives recruit and enroll new members of their team, providing access to a journey-based onboarding experience helps them navigate training content in a bite-size, what-you-need-to-know-when-you-need-to-know-it way. This keeps new representatives focused and sets the stage for them to achieve early sales wins, which impacts rep retention rates. Research shows that when MLM representatives make a sale within 14 days of joining an organization, they stay with that company for an average of six years – well above the industry average.
Provide ongoing training modules and coaching in the same journey-based approach, serving up content and videos triggered by sales activity, rank qualification progress, or product and promotion launches. This way, reps get timely information and insights delivered to the dashboard within their MLM software-powered rep tools, as well as through the company's branded mobile app.
6. Alerts
Automated alerts triggered by activity are a highly effective way to create a responsive and consistent experience across the organization for both representatives and customers. Alerts can let reps know immediately when they have a new sale, a new enrollment, or are close to qualifying for a reward or rank.
In tandem with the journey-based onboarding and coaching strategies described above, the alerts can be designed to serve up relevant tips and tools that make taking the next step – such as welcoming a new recruit or sending a thank you message after a sale – simple. Alerts about compensation and bonus qualifications keep rep engagement high while inspiring the actions that maximize earnings.
7. Reports
Information empowers representatives to build and grow their MLM businesses. Access to robust reporting tools is key. Basic information showing reps' real-time sales volumes along with projected earnings lets them know exactly where they stand and helps keep them on track for reaching their goals. Genealogy views and reports help representatives monitor the progress within their downline team and identify opportunities for growth or extra coaching.
Beyond the basics, integrated MLM software tools can enable representatives to drill down into deeper information to better understand and evaluate rep performance, product sales, or customer trends. With access to detailed, comprehensive information, representatives can develop and implement customer segmentation, targeted marketing, and tailored recruiting strategies.
Visit ByDesign.com to learn more – and contact us to schedule a mlm software consultation.
Contact Us
Learn how the Freedom mlm software can help take your business to the next level.

Additional Articles about Achieving MLM Success: