We've all heard the tale. Before Goldilocks met up with the three bears, she sampled their porridge, finding one bowl too hot and one too cool before proclaiming the third, "just right." She then – somewhat audaciously – goes on to try out the bears' chairs and even sleep in their beds, always finding the solution that's just right for her.
As you explore options for multi-level marketing (MLM) software for your company, you may feel a bit like Goldilocks. Some MLM software is so cheap, it seems too good to be true. (Spoiler alert: It probably is.) Other options are so expensive, you would have little money left over for marketing or training. So, how do you find the MLM software that's just right for your business – and your budget?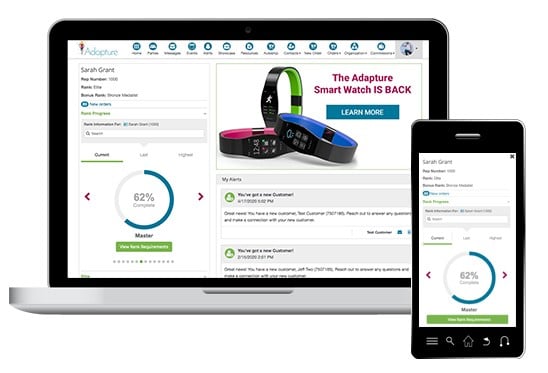 Take a hard look at what you need.
For every MLM, the story begins with determining exactly what you need from your MLM software. It's a business-critical decision, whether your company is just starting out or well-established and growing. MLM software is an essential element within a direct selling company's technology platform, streamlining back-office functions like your genealogy management, inventory management, promotions engine, and KPI reporting. Beyond efficiencies, the choice of MLM software with self-configurable commissions and incentive capabilities enables automation and accuracy when it comes to payment and commissions processing. Your MLM software allows your company to scale and grow, as well as meet compliance requirements.
Your field representatives rely on your company's MLM software for an accessible platform full of business-building tools like replicated websites, online sales, customer profile management, up-to-the-minute volume statements, live and social selling, and a mobile app for business on-the-go. From your Corporate Back-Office to representative and customer-facing aspects, MLM software is the operational backbone of a direct selling company. Determining what to invest – not too little, not too much – is a crucial step in selecting the right solution.
Here's the challenge. When you factor in the amazingly wide range of products and services MLMs sell – everything from cosmetics and housewares to insurance and energy – you need a software solution that offers comprehensive out-of-the-box functionality combined with the ability to custom configure the capabilities to match your needs. That means there's no single answer to the question, "what does MLM software cost?" While each MLM must evaluate its own unique needs and growth strategies to figure out the appropriate amount to spend when addressing its software needs, the ballpark range for high-quality MLM software is $20k to $35k in upfront costs.
Making the right software choice can enable your company to be competitive right out of the gate and help level the playing field between startups and larger, established players. Even more importantly, high-quality MLM software provides credibility, giving representatives confidence as they decide to enroll. Fortunately, unlike Goldilocks, you don't have to jump in and try all the options out there. Instead, like so many of our favorite childhood stories, there are wise lessons to be learned and applied to help you narrow down your options, evaluate different solutions, and make an informed decision on how much to spend.
Lesson 1: Cheaper doesn't always cost less.
It can be tempting to choose your MLM software based on price alone. After all, what's better than saving a few dollars? However, going with the cheapest option often ends up being a lesson learned the hard way.
If an MLM software provider's pricing seems too good to be true, it usually is. Low-cost providers have to cut corners somewhere, often impacting the accuracy of commission and bonus payments, causing processing delays on customer orders, or delivering sub-par experiences for field representatives and customers. The danger is, you might not realize that the initial savings weren't savings at all until you've paid the price with slow growth, the loss of your best reps, and low customer satisfaction.
On the opposite end of the spectrum, the highest-priced MLM software solutions aren't automatically the right choice either. Don't be distracted by all the bells and whistles or wowed by shiny objects. A razzle-dazzle demo can be great, but the technology behind it may be weak.
Base your decision on what you need, but plan for success. Look for providers who can deliver what your company needs right now, as well as the enhanced capabilities you'll need as your business scales and grows. High-quality MLM software providers will get to know your company, its product offering, genealogy structure, and plans for the future.
Choose a software provider that can provide comprehensive out-of-the-box functionality and works with both MLM startups and large global organizations. This helps to ensure the provider will have the flexibility to configure the software's settings to "turn on" the specific functions relevant for your business now. Then as you grow, you'll be able to easily add advanced features and leverage additional functionality – all using the same platform. For example, MLM software can be configured so you can create custom reports based on any of the data points in your compensation plans. Or it can allow different dashboard displays based on rank so that seasoned representatives have access to the data they need while new reps have a few key widgets that keep them engaged without overwhelming them with information they don't need. Your MLM software can also allow you to configure promotional offers yourself without having to pay for customization or get IT staff involved.
Lesson 2: Beware of "no money down" offers.
MLM software providers who say they're willing to take a loss upfront and "share the risk" with you should raise a major red flag. No legitimate company can afford to work for free, and that's essentially what the provider would have to do in order to get your system up and running. All a "no money down" offer means is the provider will need to make up the costs in other ways, such as minimizing new releases, not having live support reps available, or reducing the speed of your service by overloading their servers. Just like lesson one above, you may not know the business impact until it's too late.
Expect to pay upfront fees as you work with an MLM software provider to get your company's platform "live." In general, look for pricing that falls in between the lowest and highest priced options. Ultimately, you should expect to pay around $20k to $35k in upfront costs for good, high-quality MLM software.
From there, turn your attention to the provider's monthly hosting fees. Flat-rate monthly fees, with no extra monthly hosting fees by rep or by order, are the best choice. That way, you're able to map out your budget, knowing exactly what you'll pay each month without surprise software expenses. Typically, monthly hosting fees will be in the $3k to $4k range, providing you with ongoing support, service, and regular upgrades.
All along the way, be on the lookout for hidden costs. As you compare options, ask potential software provider partners a lot of questions to ensure you know exactly what the pricing includes – and, even more importantly, what it doesn't. Ask about access to live support specialists and training resources, troubleshooting in the event there are issues, and the cadence for cost-free upgrades, new functionality, and features. You may find that providers are offering pretty packaging but are light on the technology and customer support resources behind the promises. Hidden costs can also come into play down the road if you decide to switch MLM software providers. Ask questions ahead of time to ensure your company "owns" the data, helping to ensure a smoother transition between providers if you decide to make a change in the future.
Lesson 3: Experience matters.
The MLM industry is highly specialized. Working with a software provider with extensive industry experience is a smart investment in your company's future. Experienced MLM software providers bring useful "been there, done that" insights and advice that will help you avoid headaches and mistakes. They'll point out efficiencies based on past lessons learned helping other clients to address similar situations, and they'll help you identify cost-saving opportunities for both the short- and long-term.
Collaborating with an expert MLM software provider also helps you leverage technology to solve many traditional direct selling challenges. Ideally, your software investment should grow into a partnership between your company and your software provider, continually evolving and working together to automate your business processes and optimize components of the software you may be underutilizing so that you can gain the highest ROI for your software investment.
You'll know you've reached your company's happily ever after software solution when you're so confident in the platform and your provider partnership that you're able to turn more of your focus to developing innovative products and services and expanding your business. It's not a fairy tale. Your MLM's just right software solution is out there.
With 20 years of experience in the MLM industry, ByDesign partners with companies to help them start, run, and scale. Our complete ecosystem of software solutions is designed to save direct selling companies time and money. If you're starting to feel like Goldilocks with MLM software options that aren't quite measuring up, take a look at ByDesign.com. Browse our library of case studies where our clients tell their stories about their search for MLM software solutions and why ByDesign is the just right fit for them. Then, contact us to schedule a consultation to discuss how ByDesign can address your company's specific needs and goals.
Contact Us