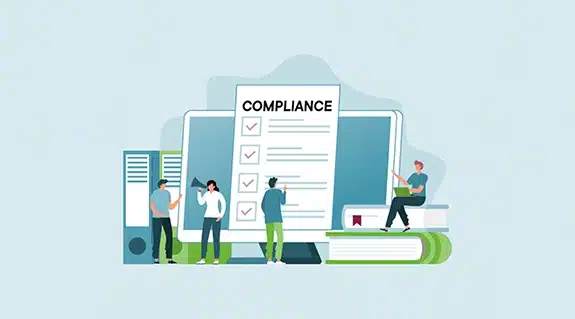 When a crisis arrives, it's too late to prepare!
Protection
Direct sales company owners ask me – why do I have to invest in a working Compliance Department for my direct selling company? The answer is easy. Security! Having a strong Compliance Department allows for the proactive defense of many aspects of your business. Investing in an active Compliance Department protects your business.
The most important function is to protect the consumer. Everything centers around the needs of the average consumer and protecting them. Compliance is all about making sure consumers have a voice when they need it before they decide to go to a regulatory agency.
Customers that wish to alert the company of any issue must have a direct and quick route to do so. It should be easy for both your customers and your independent distributors to reach out for help with any compliance issues they may have.
Having a robust Compliance Department protects you if you become the subject of regulatory scrutiny. Regulatory agencies can easily spot red flags indicating problems within a company. The company should have a Compliance Department actively monitoring and enforcing to show that it is historically proactive.
The Realities
Regulators are going to look at the record of compliance efforts to see how the department actually functions. Does the company educate the distributors in the field on a regular basis? Is the department educating distributors about policies that would trigger red flags such as unsubstantiated income and product claims?
According to Samuel Levin, Director, Bureau of Consumer Protection, FTC, "If the promises of a six-figure income and yearly trips are not true or substantiated, these claims are illegal under the FTC Act."
Does the company have solid management of the department, making sure key documents, such as the Standard Operating Procedures and Policies at a Glance, are in place?
Do they monitor online for social media issues? Do they monitor company events? Monitoring – both manually and digitally – is a key function of your department. Does the company hold the distributors accountable for the policies? Are there consequences for their actions?
Having a Compliance Department that is active helps hold distributors accountable. It is a major component of your operations that the regulators will look for in your compliance activity.
Managing the Department
Managing the department entails selecting an educated, experienced Compliance Team. It doesn't matter if they are remote, or on-site, or both. What matters is that they possess strong leadership and customer service skills. They will also possess a strong working knowledge of your Policies and Procedures, and a comprehensive knowledge of regulatory issues to watch for while monitoring. Plus, they must be fair and accountable.
I highly recommend that you have a Compliance Officer who has completed formal training such as that offered by the Direct Selling Association(DSA) and Direct Selling Self-Regulatory Council(DSRRC) and who has worked closely with direct selling expert attorneys. Choose carefully – appointing someone to the position of Compliance Officer simply because they have worked with you for years in the shipping department is not a good fit.
Your Compliance Officer and team may be remote or a combination of both. The Compliance Officer is responsible for ensuring that all staff members are also trained on a regular basis.
Managing the department involves having all the necessary forms, documents, and substantiation on hand and easily accessible. It requires that every issue that lands in the Compliance Department be documented properly for easy retrieval of the data. Accurate documentation is essential.
The department should be ruled by two things. One – the Policies and Procedures, and two – a master intake process that can stand alone as well as provide the backbone for the use of automated software monitoring and recordkeeping. The master intake process requires much more detailed records and information than is accessible by currently available back-office monitoring software. It requires many points of documentation to be covered in order to hold up to regulatory scrutiny.
In the event of regulatory scrutiny, having the documentation at your fingertips is imperative so that you are not scrambling. When a crisis arrives, it is too late to prepare.
Education
Education is a key component of the Compliance Department. That applies to everyone, and it starts at the top. The company owners and founders must learn the lingo, and have the pitch ready, in compliant language. The executive team, staff, and leaders must know how to teach the requirements to the distributors. Compliance education includes reaching out to the field by providing education on conference calls, training, newsletters, videos, and conventions. It includes PowerPoint presentations at annual company events educating about how to market products and services and conduct business in a compliant manner.
Monitoring
Monitoring the field must be at the top of the list. Monitoring allows the company to see what is going on in the field. Virtually all companies will have compliance issues. It is important that the company find violations rather than having a regulatory agency find them. If a regulator finds yours before you do, that is a problem!
The fine as of this writing can be up to $43,792.00 per incident for the company. Distributors can be fined as well.
Monitoring includes internal monitoring and regular audits of the Compliance Department as well. Both the Compliance Department and company events should be audited properly, on a regular basis, to be sure that the required procedures are being followed in all situations.
Enforcement
Effective enforcement gives teeth to the Policies and Procedures. The enforcement process holds the Distributors accountable. We use phone calls, emails, education, courtesy warnings, notification of violations, suspensions, and terminations to get the distributors' attention.
If a company doesn't enforce the Policies, then it just shouldn't have them!
Recognition
The Compliance Department can and does provide recognition to Distributors that take responsibility for their actions. We stress that compliant distributors deserve recognition for their efforts daily. Maintaining a clean program is always something to be acknowledged.
The best advice is to be prepared. If you suspect your company is not giving enough attention to compliance, start now.
By Donna Marie Serritella, The Queen of Compliance
Direct Selling Solutions
Respected Direct Selling Industry Compliance Expert, Mentor and Author, Donna Marie Serritella has worked exclusively with Direct Selling Owners and their Network Marketing Attorneys since 1991. Donna Marie established Direct Selling Solutions with the mission to help protect, educate, and mentor Network Marketing professionals on how to set-up, manage, monitor, and enforce an effective Compliance Department. She is the author of "Compliance Solutions – What the FTC Won't Tell You We WILL!"A book designed for the Direct Selling Company owners. A second book for Distributors is scheduled to be released in 2023. In addition to her position as Compliance Officer for her clients, Donna Marie serves as President of the Institute for Global Compliance.
For more information visit: DirectSellingSolutions.com
Learn more at ByDesign.com or contact us to schedule a mlm software demo.
Contact Us
Learn how the Freedom mlm software can help take your mlm business to the next level.