Social Selling
The way that consumers interact when buying and selling products has evolved towards multi-channel forms of communication. No longer are they just purchasing an item, but they are becoming part of a community with other buyers around the world. Instead of being passive shoppers, they are actively taking part in what they buy with the ability to influence the ultimate success of the products, brands, and companies they support.
Engaging customers is all about meeting them where they are and making it memorable. Social shopping hasn't replaced relationship-driven or in-person sales experiences. Instead, today's shoppers are looking to interact with brands in a way that creates an integrated and cohesive customer experience no matter how or where a customer reaches out.
Social selling is one of the fastest-growing areas in direct sales for a good reason — it works! If you have a company account for any social network (Facebook, Snapchat, Twitter, Instagram, or LinkedIn), you're passively involved in social selling already. At its core, social selling is a lead generation strategy intended to connect representatives directly with prospects via social platforms. This can be as simple as a social post with a link to buy, or more dynamic through live selling events.
The personal connection that social selling offers helps to create a positive customer experience for shoppers. The Customer Experience ("CX"), is your customers' holistic perception of their experience with your brand and products. It is a result of every interaction a customer has with your company, from navigating the website to talking to customer service and receiving the product/service they bought from you.
When you build your social selling strategy, start with the ideal Customer Experience, and then work backwards to implement. Consumers today expect a seamless shopping experience, whether they're face-to-face, at a home party, online from a desktop, tablet or mobile device, on social media, or a live selling platform. They want continuity in their experience that lets them sign in on one device to start an order and have their cart follow them to finish their order on another device. No customer wants to build their shopping cart from scratch if they switch devices. They want their information, like shipping, wish lists, credit card details, and saved items to sync across all their devices. Essentially, they want to buy from anywhere, on any device and have consistent, personalized experiences that culminate in secure, frictionless payments.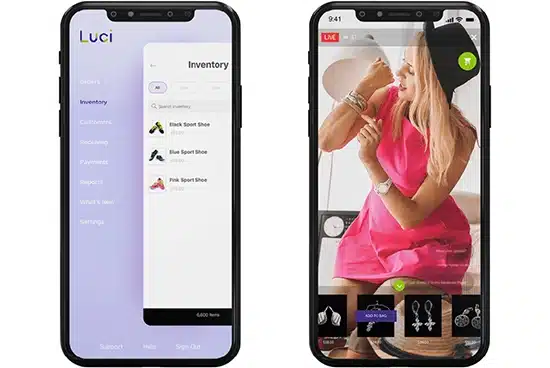 Three Keys to Successful Social Selling:
1. Live Selling
No longer a novelty, online selling events have quickly become a preferred way to reach, engage, and sell to busy customers. As popularity grows, so do customer expectations. It is critical to ensure that your representatives can interact with customers, no matter where they are online. As part of your onboarding, representatives need to be trained on how to leverage social media to effectively increase their marketing reach, build relationships, and establish strong communities with their target audiences.
When it comes to live selling, social media platforms with "Reply to Buy" functionality makes the sales process easy for both customers and representatives. Additionally, investing in livestream selling capabilities, where customers can join the live event, comment, and complete buying transactions without ever having to leave the event, will add a competitive advantage for your brand.
2. Hybrid Sales
Today's buyers are sophisticated. They expect the 24/7 convenience of e-commerce combined with personalized one-to-one relationships. Direct sellers have a distinct advantage over other distribution channels when they give representatives the tools to deliver both. Build your representative tool kit with hybrid sales in mind, giving representatives the flexibility to engage customers with an integrated mix of sales platforms, live selling options, and in-person sales that allow customers to walk out with their new favorite items.
Make it easy for your representatives to keep the focus on the customer experience. Leverage your technology to handle all the other details from inventory management to sales tax calculations and payouts for representatives.
3. Organizational Visibility
When you're growing a successful direct sales business, you don't have time to hassle with signing into multiple databases to bring together the information you need to identify trends and make decisions. Look for technology that will give you access to all your data, all in one place.
It is more important than ever that corporate has a holistic view of the entire organization's operation and flow, including retail receipt visibility from the warehouse through to the end customer. This will enable you to be confident that you are in compliance with FTC regulations, compensation structure rules, and sales tax laws.
With nearly half the world's population now active on social media, social selling is more relevant than ever. Companies that want to be ahead of the curve rather than chasing it would be smart to implement a systematic social selling practice for their organizations.
Learn more at ByDesign.com or contact us to schedule a mlm software demo.
Contact Us
Learn how the Freedom mlm software can help take your mlm business to the next level.