MLM Representative Retention
If products and services are the engine that drives a multi-level marketing (MLM) company's growth, its independent sales representatives' retention is the fuel. Having a solid and growing team of MLM representatives gives the MLM company the power to accelerate toward its goals. But, if too many representatives leave the organization, the company can sputter in fits and starts to regain its sales momentum and achieve its objectives.
Direct selling organizations typically put a lot of emphasis on recruiting representatives and building out the company's chosen genealogy structure. However, the focus on bringing new representatives into the organization sometimes distracts MLM leaders from optimizing representative retention. Traditionally, representative turnover has been a significant challenge for the direct selling industry. On average, half of MLM field representatives leave an organization within one year of joining. Within the first five years, nine out of ten are gone.
The good news for MLM leaders is that shifting some of the recruiting focus to representative retention strategies can have a dramatic impact on the bottom line. When a company is able to increase rep retention rates by just 10 percent, they can expect to see an estimated 49 percent increase in revenue over a ten-year period. The even better news is that the timing is ideal for MLM companies to enhance their representative retention strategies.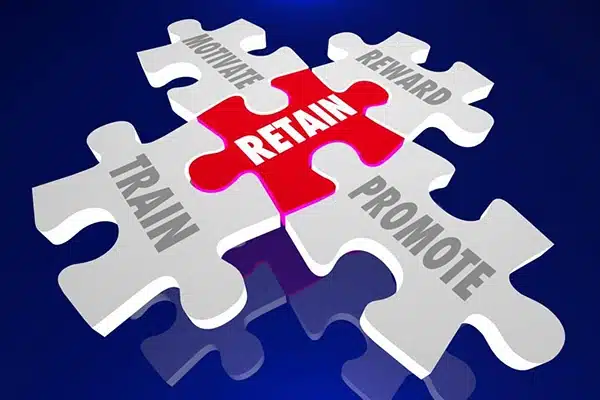 The way we work is changing – dramatically
In the United States and throughout the world, technology and current events are converging to change the way that people work. As a result, people have more options than ever for how they define their careers, jobs, and even workdays. Flexibility is key.
Today, about one in three people participate in the "gig economy," which means they work independently outside of a traditional "nine-to-five" employer-employee relationship on either a full- or part-time basis. By 2027, it's estimated that 85.6 million people in the U.S. – roughly half of the workforce – will be engaged in the gig economy.
The consulting firm, McKinsey, divides the gig workforce into four segments:
Free Agents: Independent work is their preference, and they rely on it for their primary income.
Casual Earners: They seek out independent work as a way to supplement their income.
Reluctants: They're pursuing full-time independent work out of necessity due to circumstances, such as a job layoff. But, if they have a choice, traditional employment would be their preference.
The Financially Strapped: Independent work is a necessity for them – either as primary or supplemental income.
Most independent workers – 70 percent – fall into the Free Agent and Casual Earner categories, which means they're proactively choosing to be part of the growing gig economy. Overall, 77 percent of the U.S. workforce is interested in flexible, entrepreneurial income-earning opportunities.
The evolving workforce trends – combined with technology advances – align perfectly with direct selling career opportunities.
MLM companies are thriving
With much of the workforce seeking increased flexibility and entrepreneurial careers, MLM companies offer appealing, affordable options. As people explore their options for independent "gig" work, 79 percent of Americans have a favorable perception of direct selling. The ability to build your own business and get started quickly, with minimal investment, are major reasons why. With MLM companies providing the products or services, along with the infrastructure and MLM software, joining an MLM organization, setting up a selling website, and achieving results is a relatively simple and turnkey experience.
Flexibility is another important factor behind the increasing appeal of joining an MLM organization. Fifty-nine percent of MLM representatives say the flexibility and opportunity to create work-life balance are main motivations for becoming an MLM representative.
When you factor in the increasing comfort levels with direct selling among consumers, which were greatly accelerated by the pandemic, MLM companies – and their sales representatives – are well-positioned to reap the benefits. In 2020, the Direct Selling Association reports that MLM companies in the United States achieved a new record of $40.1 billion in retail sales, with 80 percent of direct sales companies seeing increased revenues. The growth was fueled by a 13 percent increase over 2019 in the number of direct selling representatives.
By taking a strategic approach to representative recruiting, MLM companies can fully capitalize on these market forces and favorable perceptions.
Building an MLM representative retention strategy
To create and execute a successful MLM representative retention strategy, organizations first need to define what they're looking to achieve. Retention means keeping recruited representatives engaged and actively selling. With this broad definition in mind, MLM companies should then quantify what retention is for their organization. For example, MLM retention can be defined as the number of field sales representatives who are producing personal sales volume within specified time periods.
In addition to monitoring how many reps are actively selling at any given time, MLM companies should also track the percentages of representatives who have personal sales volume in their first month, first three months, and first six months with the company. Regular reporting can alert MLM companies to changes in retention rates right away, giving them time to examine the dynamics at play and make adjustments quickly.
By tracking the number of active representatives, MLM companies gain valuable insights into how improving rep retention can positively impact productivity, customer satisfaction, and overall company culture.
Productivity: Experts estimate that it takes new MLM representatives one to two years to build their direct selling networks and achieve sales activity levels that are comparable to experienced representatives. Balancing retention strategies with recruiting efforts helps MLM companies to create steady, more predictable sales growth.
Customer satisfaction: Successful MLM sales representatives build strong, personal relationships with their customers. In fact, almost half of MLM representatives say that the social aspect of meeting new people and building relationships with them is a primary motivator for why they stay in their direct selling role.
When representative retention rates are low, customer satisfaction, repeat purchase rates, and loyalty are also low. However, when representatives stay with an organization for long periods of time, the trusted, loyal relationships they build not only generate sales, but also increase brand loyalty and positive word of mouth.
Company culture: MLM representatives often look at what they do as more than a job. When an MLM organization enables representatives to connect their work to a larger sense of belonging and purpose, it can have a corresponding positive impact on representative retention rates. People who are committed to and engaged with their work's purpose are 87 percent less likely to leave. In addition, an authentic and fulfilling company culture helps MLM representatives recruit new representatives who will be good fits for the organization.
Retention starts with smart recruiting
Every MLM company's goal is to attract and enroll independent representatives who are enthusiastic and engaged – and then to keep them by motivating and rewarding them. Representative retention starts with recruiting representatives who are well-suited for the direct selling industry and the MLM company's structure and organizational culture.
Understanding the attributes of successful MLM representatives is essential. According to the Direct Selling Association, three out of four MLM representatives are women over the age of 35. Looking ahead, this population is expected to become more diverse, especially in terms of age and ethnicity. Members of Gen Z (born 1997 – 2012) will drive the changes. Along with being the most racially and ethnically diverse generation, nine in ten Gen Z-ers are interested in flexible, entrepreneurial work like MLM organizations offer.
In addition, it's important to recognize that the vast majority of MLM sales representatives pursue their business on a part-time basis. The Direct Selling Association reports that out of the estimated 7.7 million MLM representatives in the U.S., 6.8 million are part-time. Take the time to understand their motivations and how they may differ from representatives who focus on building their MLM business full-time.
In general, successful MLM representatives share a few key personality traits, including:
Passionate: Enthusiastic about advocating for products, services, and companies they believe in.
Self-motivated: Invested in the outcome of work and focused on achieving both short- and long-term goals.
Resilient: Ability to accept rejection and keep working toward goals.
Strong communicator: Effective at connecting with people one-to-one or in group settings – both in-person and virtual.
Sense of purpose: Seeking to connect their work with a larger sense of belonging and purpose.
Willingness to try new things: Receptive to new approaches, products, and services, as well as engaging with the latest technology and social media tools.
Look within your organization to round out target rep profiles to focus recruiting efforts – and drive long-term retention. Dig deep into both quantitative data and qualitative feedback to answer questions, such as:
Who is thriving in our organization? What do they have in common?
Who's not succeeding in our organization? What do they have in common?
Effective training keeps reps on board
With strategic recruiting efforts in place, the next area to focus on from a retention perspective is onboarding and ongoing training. As new recruits join your MLM organization, they are eager to learn and get started creating their MLM business. The training programs and resources they experience starting on day one create the foundation for their overall experience – and ability to succeed – with your company. The positive impact on overall retention rates is well worth it. Research shows that organizations providing standardized onboarding programs achieve 50 percent higher retention rates.
The best approach to MLM training is to think of it as a journey that begins with onboarding and continues for as long as the representative remains with the organization. Each stage of the training journey can then be tailored for where the representative is along the way as well as for individual needs and milestones.
Create journey-based onboarding around three phases: initial onboarding, skills development, and ongoing development and retention. For each phase, define specific objectives for what reps will take away and apply. The key to journey-based onboarding and ongoing training is delivering the right information, at the right level of detail, at the right time. Mapping out the journey takes deliberate and thoughtful planning and regular updating as your company, products, and representatives evolve. As you build your training strategy and resources, continually ask the questions, "what do reps need to know?" and "when do they need to know it?"
Take a modular approach to creating onboarding and ongoing training content. Break product, service, technology, business, and sales training into short, easy-to-digest modules, using a variety of formats, such as written, video, online, webinars, and in-person events to keep representatives interested and engaged. This type of journey-based training is effective because everyone learns and retains information differently. According to research studies about learning preferences, 58 percent of people prefer learning at their own pace, and 49 percent want to learn what they need to know on-demand at the point in time when they need the information.
Leverage your company's MLM software as you design, deliver, and evaluate your journey-based training content. The best MLM software will enable you to automate the delivery of each training module and share the content based on defined timing, actions, or milestones. That way, the training journey is customized to fit the needs and pace of individual representatives.
Tools and support build successful MLM businesses
Joining an MLM organization appeals to people's entrepreneurial spirit and need for a flexible way to supplement their income. One of the primary factors behind the appeal is how easy it is to get the business up and running. This turnkey ease is an essential element for driving long-term MLM representative retention.
In most cases, MLM representatives get engaged with an organization because they are passionate about its products and services and want to share the value with others. Behind the scenes, MLM companies provide the MLM software platform and technology tools that representatives need to start and run their business – from Ecommerce sales through administrative tasks and everything in between.
A company's MLM software should provide field sales representatives with operational efficiencies and access to user-friendly tools in two main categories – sales and business management.
MLM sales tools: Customer and shopping trends, such as increased comfort levels with Ecommerce and social selling, line up with the direct selling model. Still, eight in ten customers say they are looking for more human interaction in their shopping experiences. That makes direct selling's blend of online ease and personalized rep-to-customer relationships a perfect fit for today's consumer preferences.
Equip MLM sales representatives with essential selling tools, including:
Replicated websites: Today's customers have high expectations for Ecommerce. An MLM company's MLM software platform should make providing field sales representatives with turnkey replicated websites simple. Along with enabling a new representative to get their Ecommerce site up and running in a matter of minutes, replicated websites provide the rep with a unique URL address for their customers, plus end-to-end functionality that integrates with the company's back-end software. This back-end integration should provide intuitive navigation, mobile-responsive design, shopping cart ease, and shipping fulfillment, as well as automated payment processing, sales tax calculations, and commission payouts.
Customer Relationship Management (CRM): Customer relationships are at the core of MLM sales success. That makes the CRM capabilities provided through the company's MLM software vital. Look for MLM software that makes customer profile data easily accessible via the rep's dashboard so that personalizing outreach, recommendations, and follow-ups are simple and seamless. As an MLM representative views a customer's profile, they should be able to click directly on the CRM's contact card to initiate contact. Integrated CRM technology also provides the opportunity for representatives to segment their customers for strategic marketing.
Autoship: With autoship, MLM representatives are able to easily set up recurring orders to provide a valued customer service and create consistent repeat sales. The most important element is to ensure that the autoship tool integrates with the company's MLM software, ensuring seamless shipment automation, inventory management, and payment processing. The ease and convenience of autoship functionality ties directly to both customer loyalty and MLM representative retention.
MLM business management tools: When MLM companies deliver tools that help representatives handle the operational tasks of running a business, the reps are able to spend more time focused on building customer relationships, making sales, and recruiting representatives to join their downline. In other words, reps spend most of their time doing the things that attracted them to direct sales, which positively impacts their satisfaction, loyalty, and retention.
Examples of basic MLM business management tools include:
Automated alerts and communications: As they grow their business, it's important for MLM representatives to keep their fingers on the pulse of all activity. Automated alerts are an essential tool for both operational efficiency and strong customer relationships. Automated alerts can be designed to let reps know when an Ecommerce purchase happens, when someone enrolls to become a new rep, and when they are close to qualifying for a bonus or rank.
Reporting: Data empowers MLM companies and sales representatives with the information and insights they need to understand their business and optimize opportunities for growth. Integrated, user-friendly reporting capabilities make sales, customer, and representative performance data easy to access and take action on.
Compensation and recognition propel retention
The bottom line behind improving MLM representative retention rates? People want to continue working for organizations that make them feel valued. Mix formal and informal recognition with competitive compensation to incentivize and reward independent sales representatives throughout their direct selling careers.
Creating an MLM compensation structure that keeps representatives engaged and inspired is crucial. Based on the company's genealogy structure – such as unilevel, binary, hybrid, or matrix – and aligned with its overall objectives for growth, MLM compensation plans must be easy to understand with the right combination of being challenging but achievable for representatives at all stages in their MLM careers.
For example, it's important to build in opportunities for representatives to achieve sales success shortly after joining the organization. Along with reinforcing their enthusiasm and capitalizing on their momentum, research shows that representatives who make a sale within two weeks of joining a direct selling company stay with that company for an average of six years.
Another ingredient in keeping engagement high is prompt commission payouts. Reps who experience tangible results of their efforts are more likely to continue the actions that earned the payout. The best MLM software solutions provide the ability to automate commission calculations and payouts, which helps to ensure representatives receive payments quickly and consistently.
While monetary rewards are one of the primary reasons MLM representatives join and remain with a company, other forms of recognition also play an important role in keeping representatives engaged and active. Design a strategic mix of incentives, such as bonus opportunities, sales contests, and organizational ranks that provide both motivation and recognition for sales representatives. As you define the criteria, aim for realistic stretch goals. For example, if the requirements for achieving a rank level are too easy, you can dilute the power of recognition within the organization and make the retention of high-performing MLM representatives more difficult in the long term.
Finally, don't underestimate the power of recognition and encouragement in the form of personal notes, impromptu phone calls, and shout-outs during team calls or in-person events. Create a culture that celebrates successes and milestones – big and small – with a mix of formal communications, automated through the company's MLM software, and mentoring that provides leadership support for representatives at all stages of their direct selling careers.
Tracking retention for enhancement
Like all core business strategies, representative retention must be measured in order for it to be both understood and improved. Using the data captured within your company's MLM software, set up regular reporting to monitor monthly retention rates, rep tenure, and turnover rates. Supplement these tracking metrics by seeking feedback from representatives. Surveys will give you insights into rep satisfaction rates and alert you to any shifts. In addition, recruiting is another good indicator of representative satisfaction and retention. Happy reps recruit new representatives.
ByDesign Technologies provides MLM software solutions designed to fit the specialized needs of MLM companies and their sales representatives. ByDesign's software delivers the latest tools and technology so that MLM companies are able to optimize their ability to engage, motivate, and reward representatives and improve retention. To learn more about what ByDesign can do for your company, visit ByDesign.com or contact us to schedule a mlm software consultation.
Contact Us
Learn how the Freedom mlm software can help take your mlm business to the next level.

Additional Articles on MLM Representative Retention: