Feeding America
The act of sharing is one of the first life skills toddlers learn. Mastering this vital skill sets the tone for a life of abundance. Knowing there is enough of everything in this world for all of us, creates a sense of security and the willingness to share. This idea of abundance affects our thoughts about relationships, direct selling opportunities, and our future.
It may come as a surprise to learn that research now proves that sharing your time with others for a good cause can improve your overall happiness and mental well-being. At ByDesign, we can validate that research first-hand by the fantastic experiences we have giving back to our community and helping our direct selling clients.
In our hometown community of Tampa Bay, 1 in 6 adults and 1 in 4 children struggle with hunger. Florida is the fourth in the nation for family hunger. On October 20th, members of the ByDesign team and their families joined together to help do our part in relieving some of the struggles. Our team worked together to sort through donated food, diapers, school supplies, and household products. These items were weighed and packed onto pallets for distribution to food banks and individuals around the area. In the few hours we were there, our team sorted 11,000 lbs. of food which will result in 9,166 meals!
In the United States today, nearly 13% are facing food insecurity. Millions of people struggle to get by because of underemployment, stagnant wages and rising costs of living. More than 46 million people will turn to the Feeding America network in 2018 for extra support. That means for many of our neighbors putting food on the table remains a daily struggle. Please share this post with your network to let others know about the excellent services available to them — at no cost, through Feeding America.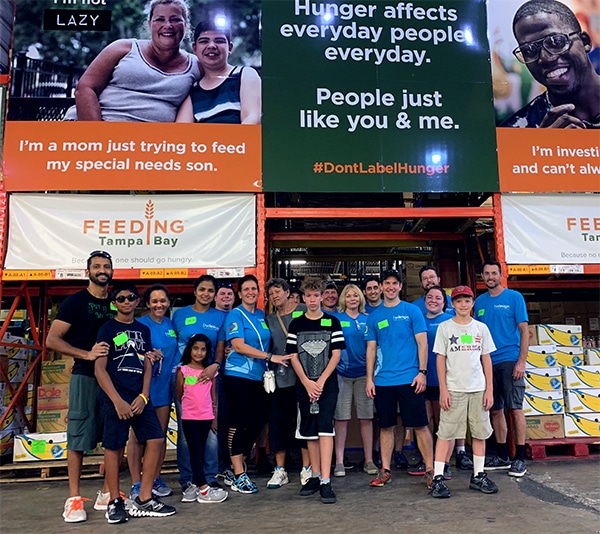 Learn more about finding food or volunteering at https://www.feedingamerica.org
Learn more at ByDesign.com or contact us to schedule a demo.
Contact Us