Social Commerce
Direct selling continues to evolve. More than 200 years after peddlers traveled from town to town in the 1700s, the industry boomed in the 1970s as women took the lead as company founders and independent sales representatives. In 1979, direct selling was described as face-to-face selling that happened outside of a retail store, including door-to-door, party events, and person-to-person. Today, accelerated by technology and social media, direct selling is redefining itself to meet evolving customer expectations and capitalize on new opportunities. So, what is social commerce? The answer to the question begins with a look back.
The Ecommerce effect
There's no doubt the Internet changed how people seek information, communicate, and shop. And the changes happened quickly. Consider this: After the invention of the telephone, it took 38 years before it had 50 million users. TV took 13 years to reach the same milestone. The Internet took only four years. Now, popular apps acquire 50 million users within days.
With increasing Internet usage as its foundation, Ecommerce grew quickly and steadily, growing retail sales from $27.6 billion in 2000 to $763 billion in 2021. By 2025, online shopping in the U.S. is projected to exceed $1.3 trillion. While many direct selling companies were slow to add an Ecommerce sales channel, they have made up for lost time over the last ten years. In an increasingly digital world, online shopping has become a natural extension of person-to-person selling, and direct selling software enables companies to provide representatives with turnkey personalized websites that make it easy to enroll with an organization, begin sharing a rep-specific online shopping link, and start selling within hours.
The next chapter: Social commerce
In 2022, social media is transforming direct selling once again. Just like Ecommerce, social commerce offers a new opportunity for direct selling companies to broaden their reach and expand their businesses. Social commerce is prompting companies to reimagine customer interactions by optimizing social media technology while preserving the unique person-to-person relationships that differentiate the industry from traditional retail and Ecommerce.
Social commerce allows the customer to make a purchase from a social media platform such as Facebook, Instagram, TikTok, and Pinterest. With social commerce projected to grow from $475 billion in 2020 to more than $3 trillion in worldwide sales by 2028, social media platforms are focused on making selling easier. Savvy direct selling companies are also ramping up their digital capabilities to meet customers where they are – and tap into new opportunities.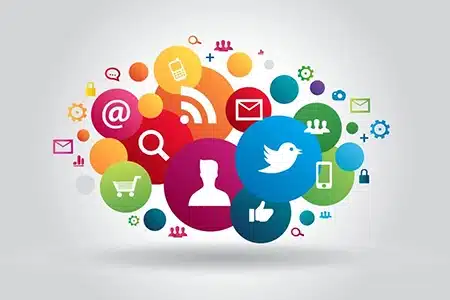 The evolving direct sales model
Along with meeting the shop anywhere, anytime expectations of today's consumers, social commerce requires companies to flex their offering of distribution models to address a range of representative objectives. Most often, this means adding sales channels that work in parallel with a traditional multi-level model. Direct selling companies are adding "single-level" sales opportunities that allow people to advocate for and sell products and services through an affiliate or influencer model, which pays commission for retail sales but does not involve recruiting or managing a downline team.
Providing affiliate sales opportunities can expand both a company's potential customer base as well as its pool of distributors. By making it easy for customers to sign up to share custom affiliate links with their networks via social media posts, online selling events, or in-person, companies have a way to engage a new population in direct-to-consumer sales.
End-to-end integration
For companies, the key to social commerce success is the adoption of a mobile-first technology strategy. Customers, representatives, and affiliates alike rely on their mobile phones as a primary tool for shopping and business. Today, mobile device transactions account for three out of every four dollars spent online. Similarly, representatives and affiliates conduct a significant portion of their business using their mobile devices. Delivering Ecommerce and social selling experiences that are designed with mobile ease in mind has quickly become table stakes for direct selling companies.
In the fast-evolving direct-to-consumer-driven environment, a company's back-office software must work seamlessly with mobile tools to enable representatives and affiliates to capitalize on selling opportunities on the go. In addition to showcasing products and sharing shopping links on social media, many direct selling companies are also refreshing their approach to enable wholesale selling opportunities through local fairs, trade shows, and person-to-person. Making the sale of on-hand inventory easier includes secure processing of mobile payments, capturing and integrating customer data, providing accessible commission payouts, and managing inventory.
To manage multiple sales channels and meet customer expectations, direct selling companies are replacing separate solutions that don't "talk" to each other with integrated front-end and back-end technology. Along with providing consistent, customer-friendly experiences no matter where the sale happens, integrated software addresses compliance challenges by tracking products from the warehouse through the retail sale, capturing comprehensive customer data, and delivering consolidated reporting and analytics at the company and rep levels.
ByDesign Technologies' Freedom software is designed to help you capitalize on evolving direct selling opportunities and deliver a social commerce experience to both customers and salespeople. Our newest solution is our integration with Wayroo, an all-in-one app that provides mobile payment ease, social commerce solutions, and integrated inventory management – all while sharing sales and customer data with the Freedom platform to ensure a 360-degree view of your business for insightful analytics and FTC compliance confidence.
Visit ByDesign.com to learn more about Freedom mlm software – and contact us to schedule an mlm software consultation.
Contact Us
Learn how the Freedom mlm software can help take your mlm business to the next level.