MLM E-Commerce | The COVID-19 pandemic dramatically changed the way people think about online shopping. While the Millennial and Gen Z generations were already on board with shopping digitally, the pandemic made them even more likely to browse and buy online. Plus, increasing numbers of Gen X, Gen Y, and even Baby Boomers are getting more comfortable with e-commerce shopping. In fact, Boomers (ages 56 to 74) have shifted their buying habits the most, with 45 percent reporting that they've increased their online shopping due to the pandemic.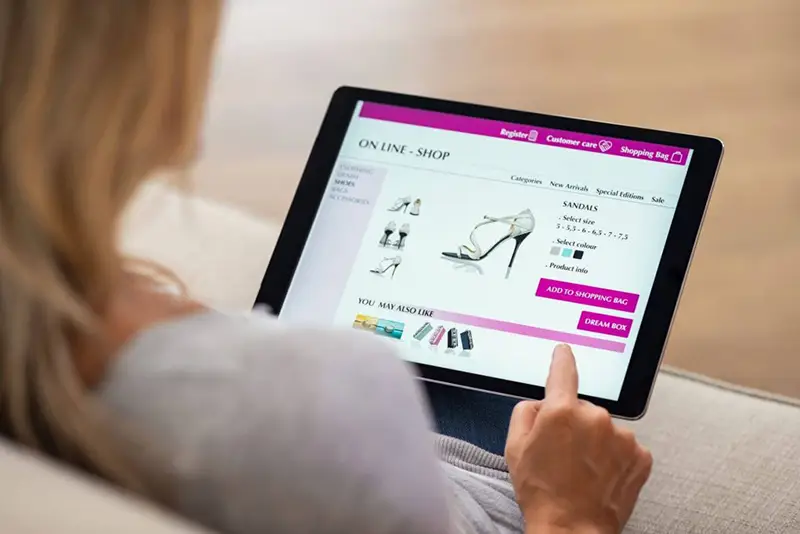 As a result, seven in ten Americans are now shopping and buying online at least occasionally, and e-commerce sales increased by 32 percent in 2020 alone. Retail experts expect the momentum to continue as people become accustomed to the convenience of shopping from anywhere, anytime. Overall, it's estimated the pandemic has accelerated the shift to e-commerce by up to five years.
So, what are multi-level marketing (MLM) companies doing to ensure they're capitalizing on the trend and enabling their representatives to meet customers' e-commerce expectations? In many ways, MLM companies are ahead of the curve, with the technology and tools available to adapt quickly by enhancing their e-commerce experience and leveraging social media to engage – and sell. According to a survey by the Direct Selling Association, 64 percent of MLM companies report increased U.S. revenues since the start of the pandemic.
E-commerce is a significant reason behind the revenue growth, as many MLM companies were well-positioned to dial up the online shopping capabilities offered by their MLM software. Let's explore the five MLM e-commerce best practices that are making a difference for companies and their independent sales representatives.
Best practice: Replicated websites provide representatives with an integrated e-commerce platform.
An MLM company's e-commerce experience starts with the choice of MLM software. One of the main tools that MLM software should provide is the ability to replicate websites so that each sales representative has a unique URL or web address for their business. This way, they're able to direct their customers to their own website for browsing and buying online.
Today's replicated sites should provide MLM sales representatives with the option to personalize their site for their community of customers by adding their photo and information. At the same time, replicated websites ensure that MLM companies are able to build cohesive branding by setting design and content parameters that create consistency across the organization.
More importantly, replicated sites are an integrated part of the organization's MLM software, which means they give independent representatives access to vital e-commerce functions, such as payment processing, sales tax calculation, shipping fulfillment, inventory management, commission payouts, and reporting. At the same time, the MLM company gains an end-to-end view of the entire business, which strengthens insights, fuels growth strategies, and enhances compliance.
While replicated sites are a foundational e-commerce element provided by a company's MLM software, keeping up with customers' evolving expectations requires direct selling organizations to adopt other technological best practices.
Best practice: Shopping cart functionality goes beyond the basics.
E-commerce experiences center around shopping cart capabilities. Simply put, an easy-to-navigate shopping cart that enables browsing drives additional sales. Slow or complex shopping cart functions can lead to high shopping cart abandonment rates, which means MLM representatives are missing out on sales.
Shopping cart abandonment rates are an issue for e-commerce companies as a whole. The average cart abandonment rate is 69.8 percent. The best MLM software offers shopping cart options that make shopping easier for customers. And when the shopping cart experience meets – or exceeds – customer expectations, they're more likely to complete the purchase and even buy more. Here are a few examples of how.
E-commerce shopping carts can do much more than capture the items a customer wants to buy. They can guide customers to what they're looking for and even sell them additional items. Look for MLM software functionality that enables online shoppers to filter and search by products, product categories, price ranges, and styles. When it's easy to find what they're looking for, customers feel good about not only completing the purchase but also browsing additional products and offers.
MLM software can also deliver shopping cart capabilities that interact with customers as they shop. For example, having a tag function enables MLM companies to alert customers to which products are bestsellers, newly added, or on sale. Tags can also create a sense of urgency for the buyer by tying into the integrated inventory system to let customers know when there are only a few left of a particular item.
Along with tags, look for MLM software that includes an option to suggest related products based on what customers add to their carts. According to recent research, 53 percent of online shoppers value these types of personalized recommendations, and 56 percent are more likely to return to shop again when the site offers "you might also like" product recommendations.
Including the ability for customers to access and share product reviews is another effective way to decrease shopping cart abandonment and drive sales. Real-life endorsements of products are often just what customers need to move from shopper to buyer. MLM software can provide important safeguards for companies by providing the ability to monitor reviews and approve or decline what gets posted.
In addition, seek MLM software that enables customers to see a range of images showing products from different angles and situations. Giving customers the ability to zoom in on images to see products up close is also fast becoming an expected part of online shopping.
Finally, don't forget about branding. Some MLM software providers offer the ability to carry the MLM company's branding through to the shopping cart and checkout pages. It's just one more way to strengthen brand recognition and create memorable customer experiences.
Best practice: The checkout process is transparent and simple.
When customers are ready to purchase, the checkout experience can make or break whether the sale happens. One in five shoppers abandons their shopping carts because the checkout process is too complicated.
Keeping it simple is key, as is conveying the simplicity to customers. First, keep the number of steps to the minimum, and think about the natural flow of one to the next. Then, be transparent. When customers can see the steps needed to complete a purchase and their progress as they go, they're more likely to finish.
Explore the design options for checkout pages available within your MLM software. Employing an "accordion" design is one of the most effective ways to show customers exactly what they need to do and bring them through the checkout process. An accordion design provides a view of the steps that need to be completed, such as choosing shipping options, entering information, and completing payment processing. In an accordion design, each section expands for customers to complete it and then compresses as they move on to the next.
Throughout the checkout process, it's best to keep the pages simple and clean, without a lot of extra information. This keeps the customer focused on making the purchase. Another effective way to communicate and encourage purchase completion is to provide an order summary throughout the different checkout steps. Customers can continuously see their order along with any changes to the total costs that occur as they make shipping selections or apply discounts.
Best practice: Everything is optimized for mobile.
One of the most essential elements of e-commerce success is ensuring that web pages, shopping carts, and checkout experiences are optimized to present effectively on mobile devices like smartphones and tablets. The number of online shopping transactions conducted via a phone or tablet is growing rapidly. As of 2021, more than half of e-commerce sales are taking place on mobile devices.
The best MLM software providers enable mobile responsive design capabilities that simplify navigation throughout the e-commerce experience, using easy-to-read fonts and point sizes as well as stackable page designs that facilitate scrolling. Mobile e-commerce – also called m-commerce – is all about making the experience quick and easy for customers who are on-the-go and more likely to get distracted by incoming calls, texts, or social media.
Best practice: Social selling creates online relationships.
For MLM companies, e-commerce should never feel impersonal. Direct selling thrives on relationship building between MLM sales representatives and their customers. Successful MLM representatives are combining social selling with e-commerce to connect with customers and drive sales.
Social selling via social media platforms like Facebook or Instagram offers representatives a highly effective opportunity to engage potential customers. Today, it's estimated that eight in ten consumers start their buying journeys based on inspiration and product discovery delivered through their social media channels.
Live selling events on social media are a highly effective way for representatives to demonstrate products and personalize shopping interactions by chatting "live" with event participants. Live social selling events provide an engaging way to showcase the value of products and seamlessly direct interested customers to the representative's replicated website to select the products they want and complete the sales transaction. Social selling is the best of both direct selling worlds – personalized selling paired with e-commerce efficiency.
The best MLM software provides social selling tools that support live events and click-able social sharing buttons so customers can post about their experience – integrating everything with replicated websites, payment processing, shipping fulfillment, inventory management, and customer profile capabilities. And, on the back end, MLM software should seamlessly and accurately credit all sales generated to the correct representative for commission calculations and payouts.
Designing and delivering an e-commerce experience that meets the expectations of your customers and fuels MLM growth starts with the capabilities provided by the company's MLM software. Choose an MLM software provider that offers comprehensive, integrated e-commerce options – and has a track record of providing regular enhancements that ensure the software keeps up with technological advances and ever-evolving customer demands.
ByDesign collaborates with MLM companies to provide insights, solutions, and partnerships based on the experience and best practices we've developed over our 20-year history. Visit ByDesign.com to learn more about our MLM software solutions and end-to-end e-commerce capabilities – and contact us to schedule a mlm software consultation to discuss what ByDesign can do for your mlm business.
Contact Us
Learn how the Freedom mlm software can help take your mlm business to the next level.

Additional Articles on Choosing MLM Software: