Our 20th anniversary marks an important milestone for ByDesign. As we pause to reflect on the vast accomplishments made for our amazing clients, we are filled with gratitude for the trust that has been placed in our team and for the lessons learned from helping to launch nearly 1,000 clients.
Since ByDesign's start, our team has worked with many of the most admired companies in the Direct Selling Industry, and many more worldwide. We thank our clients, partners, and friends for the long-term relationships we have built together and the opportunity to support so many visionaries.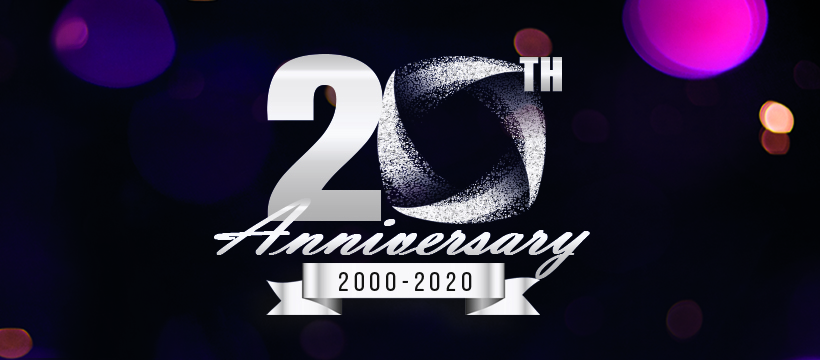 Looking Back
In ByDesign's early days, we printed and mailed out our software manual. We also printed client's Compensation Plans, color-coded them by type of plan, and stored each one in a large binder. There were so many comp plan binders in our office that we had to build a floor-to-ceiling library to keep them. We've all come a long way since those days.
To kick-off our platinum anniversary celebrations, we asked some of our long-time clients and employees to share their input on what they believed to be a few of our enduring success keys, and three rose to the top of the list.
1. The Talent and Tenure of the ByDesign Team
We believe that fostering long-term employee tenure provides a tremendous value to our company and clients — one that goes well beyond technology. We are proud to have so many on our team that have worked at ByDesign for many years, making it the best place to do great work. Twenty-eight employees have been with us for more than five years, and 17 of those have been with us for more than ten years.
Glen Bogue | VP Compliance and Commissions | SendOutCards
Launched 2005
"I am always amazed when I ask a question, and the support specialist walks over to the person who worked on our account twelve years ago to ask where they got a certain logo, or another small detail. At ByDesign you know how everything started because those people are still with the company. The amount of knowledge and experience that their team brings to SendOutCards is invaluable. "
Noemie Ligutan Tan Jimenez | ByDesign Senior Business Analyst, Asia Pacific HQ
Tenure 11 Years
"The culture at ByDesign puts people first. We are always celebrating big and small milestones. Our teammates' relationships are always growing through company clubs like running, 3-D printing, crafting, and tea tastings. Not one person is left out. Teamwork and friendship go hand-in-hand in our daily work. It is easy to see why more than half of our staff has been with the company more than five years, and more than a third of our team has been with ByDesign for more than a decade."
2. Users Conference
Our goal for the Users Conference is to help our clients prepare for the future by exploring new functionality, learning best practices, gaining new perspectives from case study results, and understanding market trends. It also creates an occasion for myriad networking activities geared to getting clients answers to their most pressing issues or paying it forward by sharing some of their big wins.
Ryan Reeve | Founder | Paparazzi Accessories
Launched 2010
Paparazzi attended ByDesign's User Conference a few months before their launch. That's where they met the ByDesign team, including several of the support team — staff members who would later help them with their launch.
"I really enjoy that ByDesign's people are there and they care about us. Honestly, that's one of the reasons we stay with ByDesign. I don't believe any other company has the people in-house that are watching things as closely as they do. I also don't believe another company would care enough to call me at 4:00 in the morning and say this is how your new launch is doing. This is what you need to do to fix it."
Jacob Rodrigues | ByDesign Client Support Analyst
Tenure 11 Years
"The positive changes we have seen for clients attending our User Conference events have been outstanding! The new ideas from the round table discussions and group collaborations continue to bring our clients and us to new heights. It is really fun to meet so many clients in person and to show them how to get more value out of the system they already have. Our events foster a strong community among our clients, and create opportunities to learn from others who have very similar challenges and situations."
3. Winning the 2018 DSA Partnership Award
ByDesign became a member of the Direct Selling Association shortly after the company was founded. We joined the DSA because we believe our industry is better served when united as one voice working together. We are incredibly proud to be partners with our clients, as we strive together to help them reach their goals. It is a great honor for our entire team to have won this distinguished award.
Traci Lynn | Founder | Traci Lynn Jewelz | Traci Lynn Beauty
Launched 2008
"When you work closely with people, there needs to be shared values on how you relate to each other and what you're willing to do. It's about staying engaged, being responsive, caring about the result, and each other. I can tell you that I know I am with the right people. The ByDesign team is so willing to do whatever it takes — this team wants you to succeed. ByDesign's culture of serving clients and making our business success their priority is what the DSA Partnership Award celebrates. This award holds an exceptional significance in our industry as the only way a supplier can win is by multiple nominations from their clients. ByDesign is a true partner, and it is easy to see why they were the first back-office provider to win this prestigious award in twenty-one years."
Jerry York | ByDesign Global VP of Sales
Tenure 16 Years
"We put a lot of focus and attention on making our clients more successful without them having to do any additional work. Helping the people behind the companies run their business more effectively, with greater accuracy and simplicity, is incredibly rewarding. My goal is to empower the prospects I speak with to solve the problems that block their success, whether with software, a referral to a consultant, or an introduction to someone in the industry that would be an excellent resource for networking. Winning the DSA Partnership Award was a dream come true for our team. It truly validated the work that we do to provide long-term value for the industry, which means helping each entrepreneur in the most meaningful ways for them and their business."
Looking Forward
2020 is undoubtedly a year for looking forward as we build upon our two decades of innovation and challenge ourselves to create new ways to leverage technology that empowers hundreds of millions of people globally.
A warm thank you to all of our customers, team members, and partners that we share this success with, and whom we look forward to working for decades to come.
Learn more at ByDesign.com or contact us to schedule a demo.
Contact Us